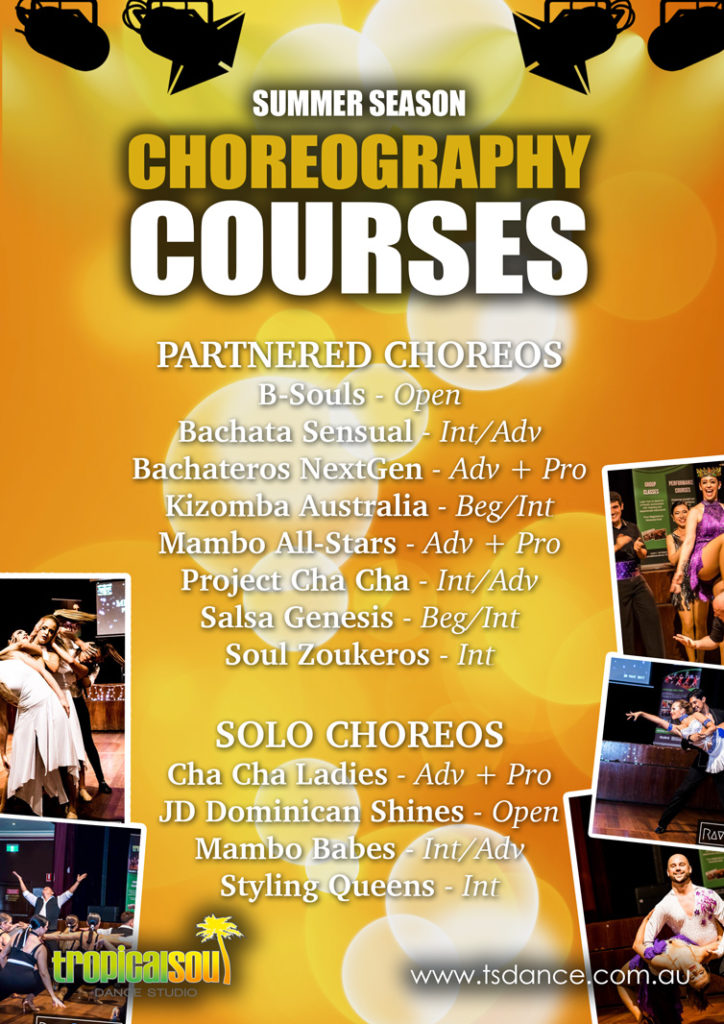 TROPICAL SOUL SUMMER CHOREOGRAPHIES
Tropical Soul is thrilled to announce the release of the 2017 TS SUMMER Choreography courses.
It'll be 13 weeks of training all leading up to our bi-annual event, the SUMMER GALA (Saturday, 18th of NOVEMBER) as well as a chance to perform at many other events like:
Join us for this exhilarating journey of dance for thrilling opportunities to perform live on stage!
All our choreographies will propel your dancing to the next level, as you will acquire or improve essential dance skills ranging from body movement, spins, stage presence, lines, technique and accurate footwork!
Join the family, join the fun!
WATCH OUR PAST TROPICAL SOUL PERFORMANCES ON OUR YOUTUBE CHANNEL!
DATES
All choreographies start on the week of August 20th, 2017 and end on the week before the Summer Gala, which is on Saturday November 18th, 2017.
Total: 13 weeks of training
2017 SUMMER TIMETABLE
PARTNERED SALSA

CHOREOGRAPHY
DATE/TIME
INSTRUCTORS
DETAILS
Salsa Genesis
(Beginner / Intermediate Level)
Mondays  9:30pm-10:30pm
(Starts 21 Aug)
Ray & Naz
Must have completed at least Salsa Level 2, and continue through the levels
Project Cha Cha
(Intermediate Level)
Tuesdays
9:30pm – 10:30pm
(Starts 22 Aug)
Josie & Steven
Must have Cha Cha experience
Mambo All- Stars
(Advanced + Pro Level)
Wednesdays
9:30pm- 10:30pm
(Starts 23 Aug)
Josie & John
By Invitation only

PARTNERED BACHATA

CHOREOGRAPHY
DATE/TIME
INSTRUCTORS
DETAILS
B-Souls
(Intermediate Level)
Sundays
5:00pm-6:00pm
(Starts 20 Aug)
Juan & Yiseul
Must have completed at least Bachata Level 2, and continue through the levels
Bachata Sensual
(Intermediate)
Thursdays
9.30pm-  10:30pm
(Starts 14 Sep)
Ali & Mercedes
Must have completed at least Bachata Level 4, and continue through the levels
Bachateros NextGen
(Advanced + Pro)

Tuesdays
9.30pm-  11:00pm
(Starts 22 Aug)

Juan & Nat
By Invitation only. contact juan@tsdance.com.au to join

OTHER STYLES

CHOREOGRAPHY
DATE/TIME
INSTRUCTORS
DETAILS
Kizomba Australia
(Beginner / Intermediate)
Thursdays
8:30pm
(Starts 24 Aug)
 Liz
 Bachata Queens
(Open Level)
Mondays
8:30pm
(Starts 11 Sep)
Mercedes
Intermediate level dance skills required

SOLO CHOREOGRAPHIES

CHOREOGRAPHY
DATE/TIME
INSTRUCTORS
DETAILS
Juan Direction
(Open Level)
Sundays
6:30pm – 7:30pm
(Starts 20 Aug)
Juan
Must be doing a Bachata classes from level 3 and up
Mambo Babes
(Intermediate/Advanced)
Sundays
3:30pm – 5.00pm
(Starts 20 Aug)
Josie
By Audition, contact Josie@tsdance.com.au to join
Cha Cha Ladies
(Advanced +Pro)
Sundays
5:00pm – 6:30pm
(Starts 20 Aug)
 Josie
By Audition, contact Josie@tsdance.com.au to join
Ladies Zouk
(Open)
Wednesdays
9:30pm – 10:30pm
(Starts 23 Aug)
 Nathalia
NOTE: In order to be part of the Competition Teams, you must pass the audition. For those students selected after competition, you will be part of the SQUAD membership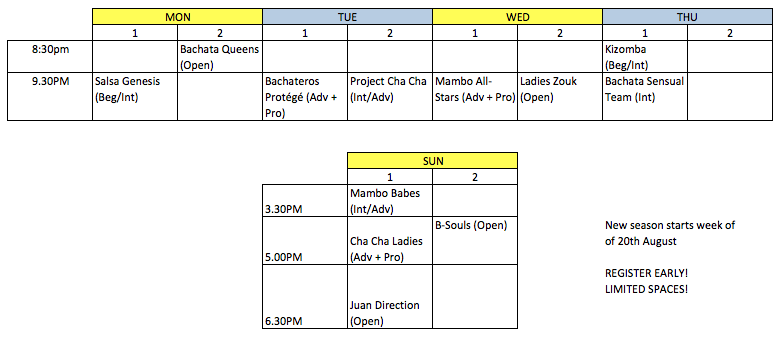 PERFORMANCES & EVENTS
All teams will have many opportunities to perform in local and national events! ALL teams will perform at the Summer Gala on Saturday 18th of Nov and may also be performing at:
– SAVE the DATE – Summer Gala Saturday, 18 Nov!
– 12th Annual Byron Latin Fiesta – 3rd to 5th Nov 2017
– SALSA Palladium MAMBO Convention 2
– World Salsa Solo
– and more!
PRICE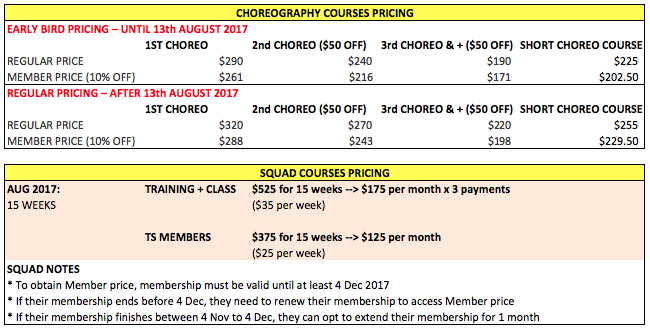 The choreography fee covers:
13 weeks of training
Entry to the Summer GALA
Free access to HD video of your performance
Free access to digital photos of your performance
Team  t-shirt at a discounted price of $15 (regular value of $30)
NOTES FOR SQUADS: There is no discount for 2nd or 3rd Squad. Also, Squads don't count as a choreography course, so there is no discount for extra choreography
NOTES:
You can secure your spot on the choreography by paying the Full amount (directly at reception) or by paying a $100 deposit.
For those doing more than 1 choreography, a payment in 2 or 3 instalments can be arranged, however second pricing options apply (please inquire).
TERMS & CONDITIONS
When registering for a choreography course, you agree to the following terms and conditions:
A $100 deposit per choreography will secure my spot in the choreography course*
Choreography fees (including the $100 deposit) are non-refundable as TSDS must pre-plan accordingly to team details such as number of couples and/or individuals, choreography routines and arrangements, and other resources. TSDS is not responsible if I change my mind or if my circumstances change.
Full payment of the choreography course(s) is due on or before the start of your choreography course.
Discounts on following choreography course(s) such as 2nd, 3rd choreographies apply when it is within the current choreography session (not for any other previous choreography sessions).
By booking for this choreography course, I confirm that I am available and I am committing myself to attend these 14 training sessions.
I am aware that extra training sessions with my team or my dance partner may be required and am willing to go all in and work hard to become the best dancer I can be!
Any additional training session with the choreographer, outside of the scheduled 14 sessions, will be charged at only $10 per person per hour.
If more than 1 training session is missed, a private lesson will need to be booked with my choreographer to catch up. Private lessons for choreo courses are offered at a discounted rate of $70 per hour for 1 person, $80/hr for 2, and $100/hr for 3 people.
If I miss more than 3 training sessions, I understand I may not have the chance to perform with my team.
I will plan approximately $100 (exclusive of dance shoes) for the purchase of my performance costume.
The use of any images and/or videos made from trainings, rehearsals, and the performances may be used for promotional purposes by TSDS so don't forget to smile!
TSDS reserves the right to update the choreography timetable. It will advice the students about any changes at least 2 weeks before the changes occur
All choreography must have a minimum number of couples (or dancers) in order to go ahead. If numbers are not met, TSDS will cancel the choreography course, refund the amount paid or move the registration to another choreography course.
*You cannot register for the "by invitation only" choreographies unless you have been given the permission by the corresponding instructor.
ALL Online transactions will incur a 2% fee displayed as "Shipping & Handling". Please refer to our Price Structure for more information.