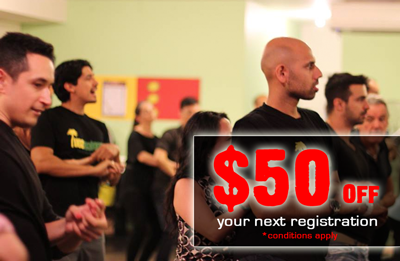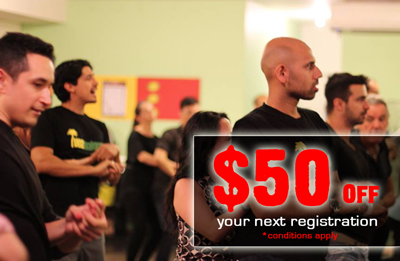 YES! We are giving away $50 off your next registration for 2015! No more excuses to start dancing!
That's close to 50% discount off the regular price! Use the $50 voucher to register for the SALSA BEGINNERS CLASS at 6:30pm (check our class timetable for the times and dates). New term starts on the 1st of July.
Latin Dancing is a very fun and entertaining activity. You will not only stay fit and move your body, you will meet lots of like-minded people and become part of the Soul-mates family. Check out the video to see what we are all about! And you can check out our Tropical Soul FB Page too!
Ready to start your dancing journey? There is no catch to claim your $50 off! All you need to do is:
TERMS & CONDITIONS

Offer is valid to new and current students
Offer is valid ONLY for Salsa beginners on Wednesday nights, at 6:30pm.
Offer cannot be combined with any other offer. The $50 off is taken from your total registration fee
Offer can only be used for Term 5, starting on the 1st of July, 2015
Bookings are subject to availability

[contact-form-7 404 "Not Found"]