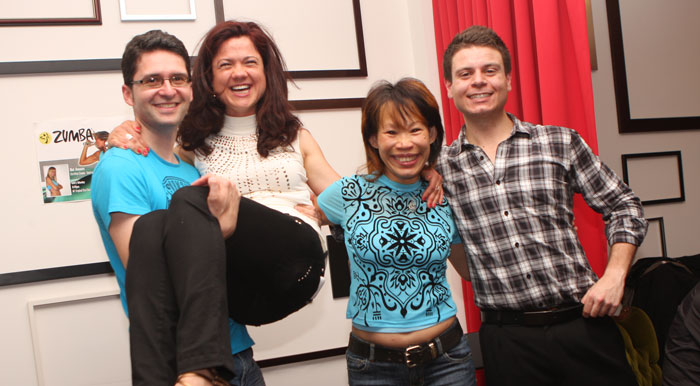 We are more than a dance studio, that's for sure. Here are some of the testimonials from our students
I had always wanted to learn to Salsa! It looked fun, energetic and beautiful but I could never build the courage to take classes. I have tried to learn in the past but was put off by the judgement and snobbery of some advanced dancers; I found that they could be quite "clicky" and critical towards newbies. Feeling like a Salsa wanabee, I would give up.

I love TS Dance! You guys have a brilliant warmth and you all are awesome and embracing new starters! Although we are new to dance, you make us feel that we don't have to be professionals to belong! You just seem genuinely excited that you're moulding future dancers. That alone makes me smile and inspires me to come back every week 🙂
-Bernadette
TSD is a great place for opening yourself up to a world of fun and dance. The instructors are confident and give step-by-step instructions so you can master both the easy and the more complex steps. Well done guys!
-Suganya C.
Tropical Soul is not just a dance studio – it's a centre for the community to come together and enjoy dancing.  Instructors keep the students on their toes with their fantastic teaching abilities and easy-going, fun approach.  Thanks for the smiles, laughs and dancing!
-Linda I.
Today's party at tropical soul studio [Salsa & Bachata party] was one of the most brilliant Salsa nights I ever had! Amazing crowds and vibes, thanks to Josie, Juan and Linda. Big thanks and keep up the great work! 🙂
-Frank Z.
After dancing for nearly 20 years in various schools in NSW and Qld, I have to say I have never had so much fun and learnt so much so quickly as in my past few months at TS. Having never done any type of partner dancing I was very apprehensive but after my first Bachata class I was hooked. Everyone is always so friendly and encouraging I felt comfortable straight away. I can't wait for 2012, I have my membership and am determined to learn even more styles of dancing and have more fun! I can't recommend TS enough to people. Having just moved to Sydney, being able to come to a place with such friendly people has made the move so much easier, thank you so much!
-Kate M
Thanks guys for the the great enthusiasm and attentiveness. I have never had more fun learning to dance!
-Joe
Hi Juan & Sam

The Beginners' class we took with you last term was fabulous! You're a great team & both of you are talented teachers. Each week was lots of fun as we learned from your very clear instructions.
You really gave us all a great introduction & start to Salsa & it's heartwarming to see that you also gave the boys enough confidence to go out into the 'real' world of dancing. That's no mean feat!

Friday night's party was great fun. Including this in your dance program is brilliant. It allows the beginners to start in a safe environment which builds their confidence and bonds your students to each other & Tropical Soul.

I just have to add this – Juan, rigged in your full-scale tux & in full flight on the dance floor, you were a smash hit. Wow! So good to watch. We all you wish the TS team buckets of luck in Melbourne.
-Natalie D.
Can't recommend these guys enough! I danced at a fair few salsa schools before finding one with such a great vibe and fun, quality classes that teaches people dance dance (like the thing that makes you grin and leaves you buzzing) rather than just the steps (yawn).

Josie, Juan and the brilliant team of teachers they've rustled up teach with such infectiously positive energy, it's obvious they love what they do – and know how to teach as well as they dance (makes such a difference!)

TS is super involved in the Latin/salsa scene, is set in a great location with a sweet studio space to boot, and offers a great variety of classes. And no, they didn't pay me to write this 🙂 Congrats on the school and thanks for all the laughs guys!
-Annette R.
I attend the Samba classes and samba choreo's at TS and I think it is one of the friendliest, down to earth dance school's in Sydney. The customer service is great, they really take care of their dancers and there are plenty of perks along the way – performance opportunities and free t-shirts at the Gala Party 🙂
-Jess S.
Hi Juan and Sam,

I thought I would like email you for the first time from a Bachata perspective. Thank you so much for your fantastic teaching last night and the fancy moves!  After one year long consideration, I felt I am finally open to Bachata and despite I am still a beginner in it, I will take a leap of faith and join the international bachata festival for the first time!
– Frank Z
Leave your testimonial
Feel like leaving us a testimonial? Just fill in the form below, and who knows, you might get a wonderful Tropical Soul gift!
[contact-form-7 404 "Not Found"]