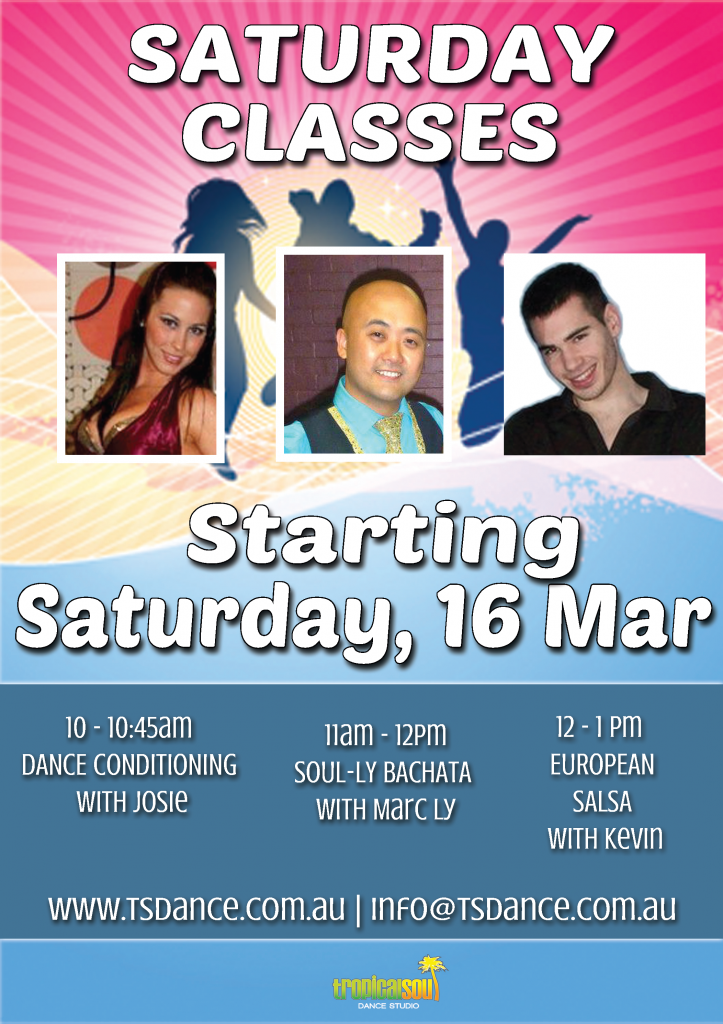 Our Saturday classes will be held starting from Saturday, 16 March 2013.  Please find the schedule below:
10-10:45am: DANCE CONDITIONING WITH JOSIE
11am-12pm: SOUL-LY BACHATA WITH MARC LY
12-1pm: EURO SALSA WITH KEVIN BENAMAR
Please note that we offer these Saturday classes either on a casual basis, or through our 6 or 10 class pass.  Bookings are essential so make sure to contact us!
DANCE CONDITIONING:
This class is a workout class, where you will learn and practice many movements and stretches that contribute to creating a dancer's body. It will be challenging for most people, but very rewarding with regular practice.
We will focus on a wide variety of exercises borrowed from ballet, pilates, yoga and more, to build your core and lower body strength, your flexibility, your lines and your technique. Guys, this is not only for women, you too need to work on this! 

DRESS CODE:  You will need to wear gym or yoga-style wear (stretchy) and bare feet are preferred. Please bring a small towel or a yoga mat if you have one, as we will do many exercises on the floor. We suggest to bring a change of clothes if you are staying for the following Salsa and Bachata classes.
Ready to register? Check our timetable Click here