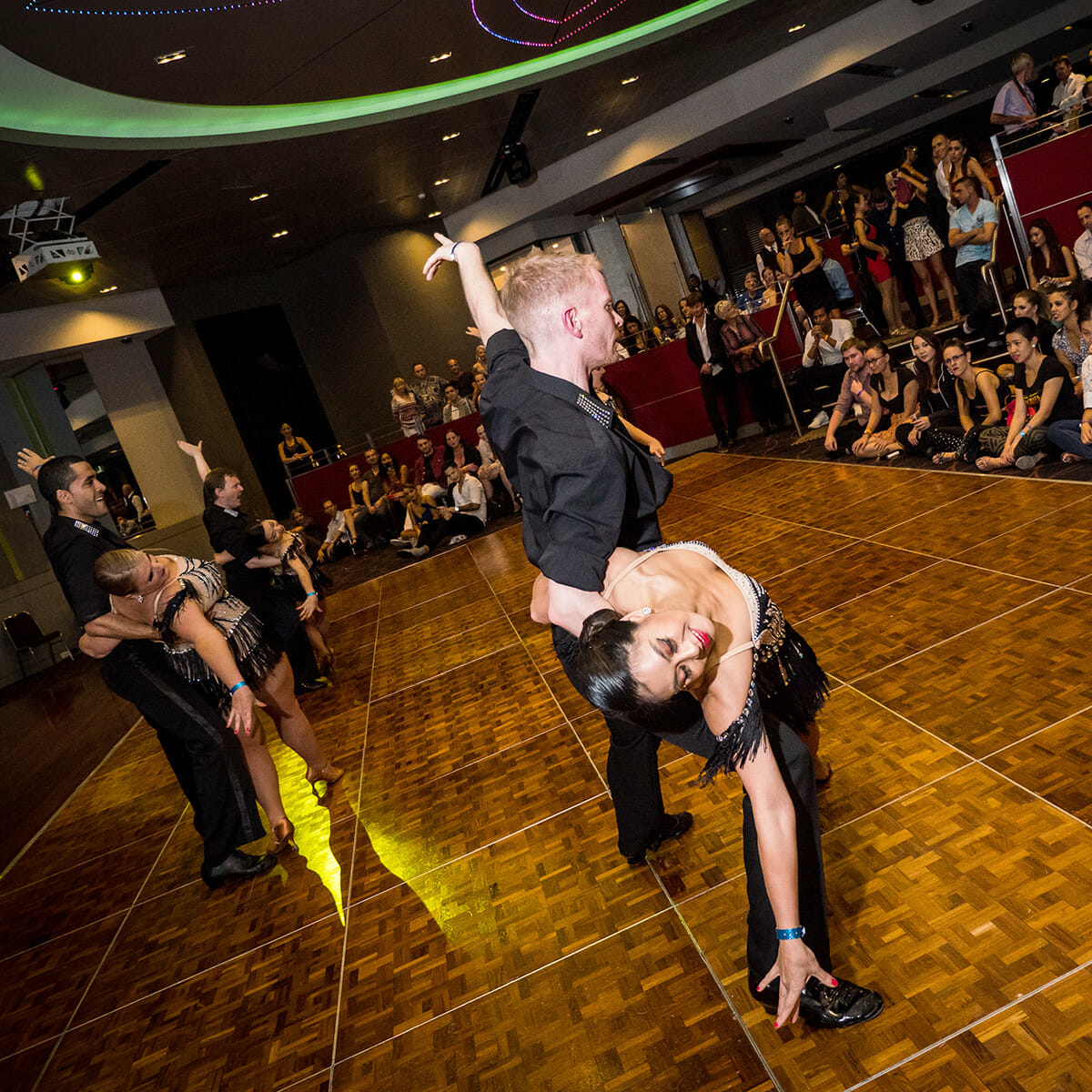 At Tropical Soul, we have been developing dancers since 2011! Our teams and choreographies are known for being challenging, technical and overall… fun to watch!
Join us on this exhilarating journey of dance for thrilling opportunities to perform live on stage!
All our performance teams will propel your dancing to the next level, as you will acquire or improve essential dance skills ranging from body movement, spins, stage presence, lines, technique and accurate footwork! Join the family, join the fun!
THREE SEASONS FOR YOU TO JOIN US
SEASON 1
Training sessions are during the months of Feb to May, culminating at the famous Winter Gala Party.
Perform at
SEASON 2
Shorter season. Training sessions are during the months of Jun to Aug, with some repeat choreographies.
Perform at:
Canberra Bachata Blast
Candela Salsa Festival
Doudoule Latin Festival
and many more events!
SEASON 3
Training sessions are during the months of Sept to December, culminating at the famous Summer Gala Party.
Perform at: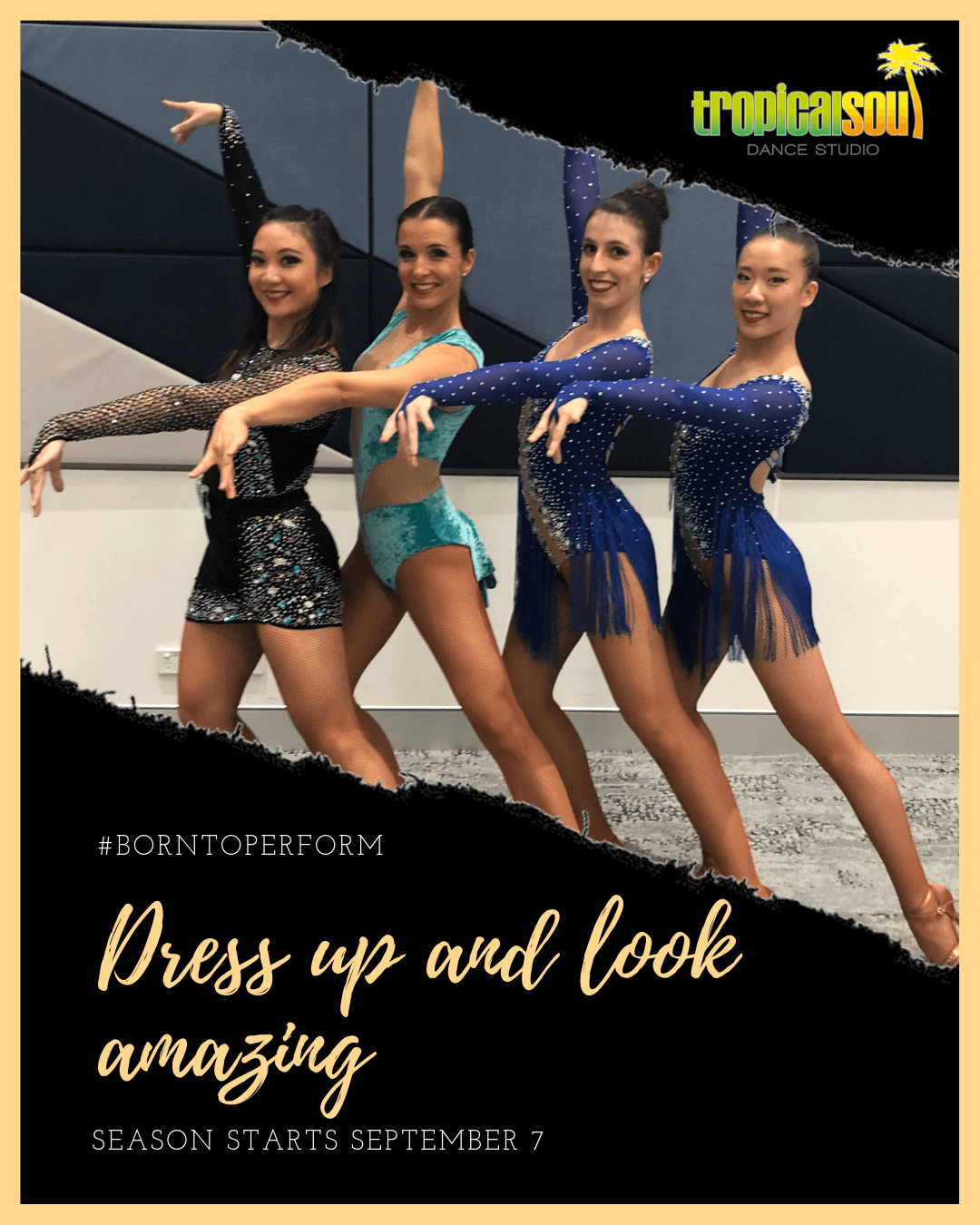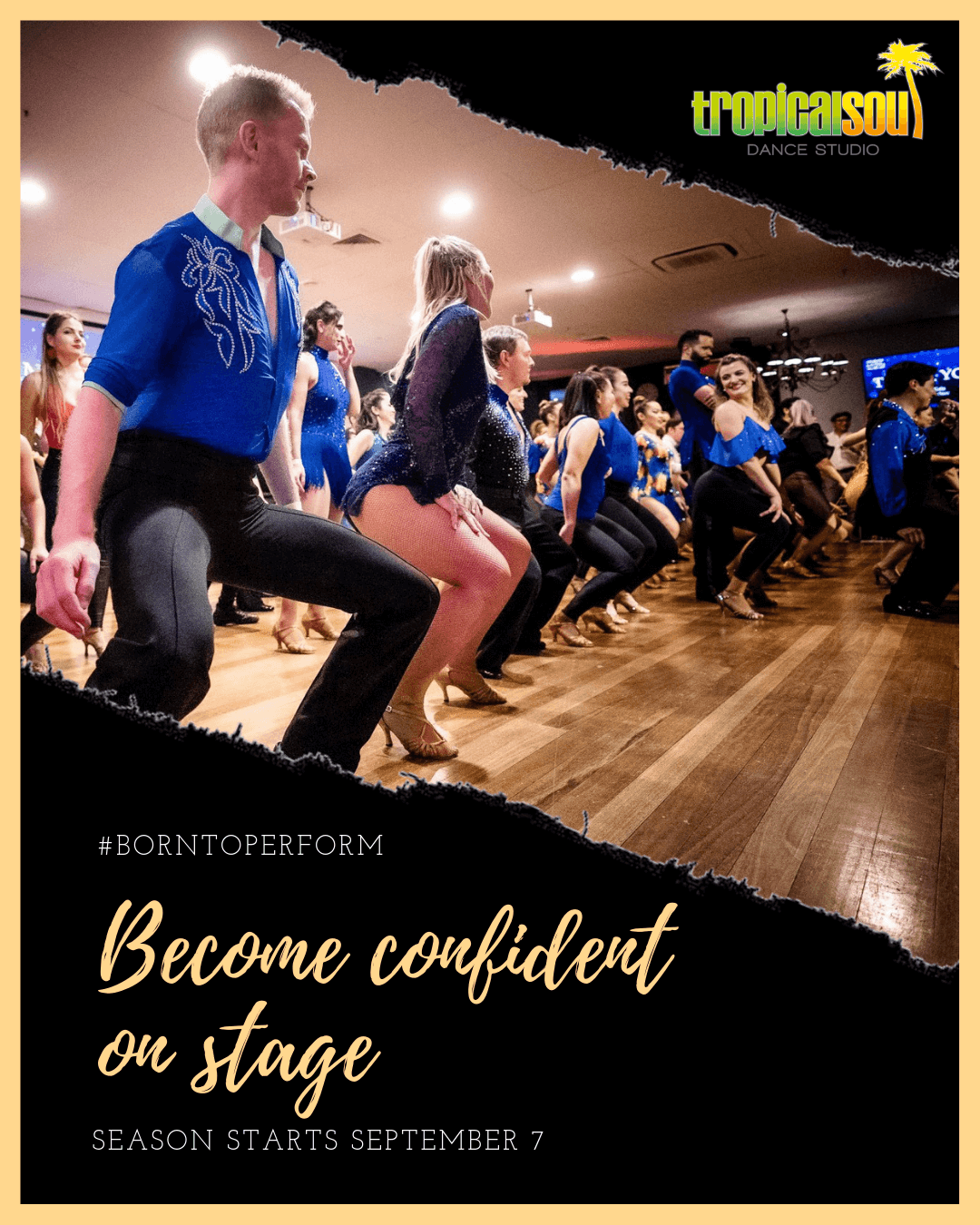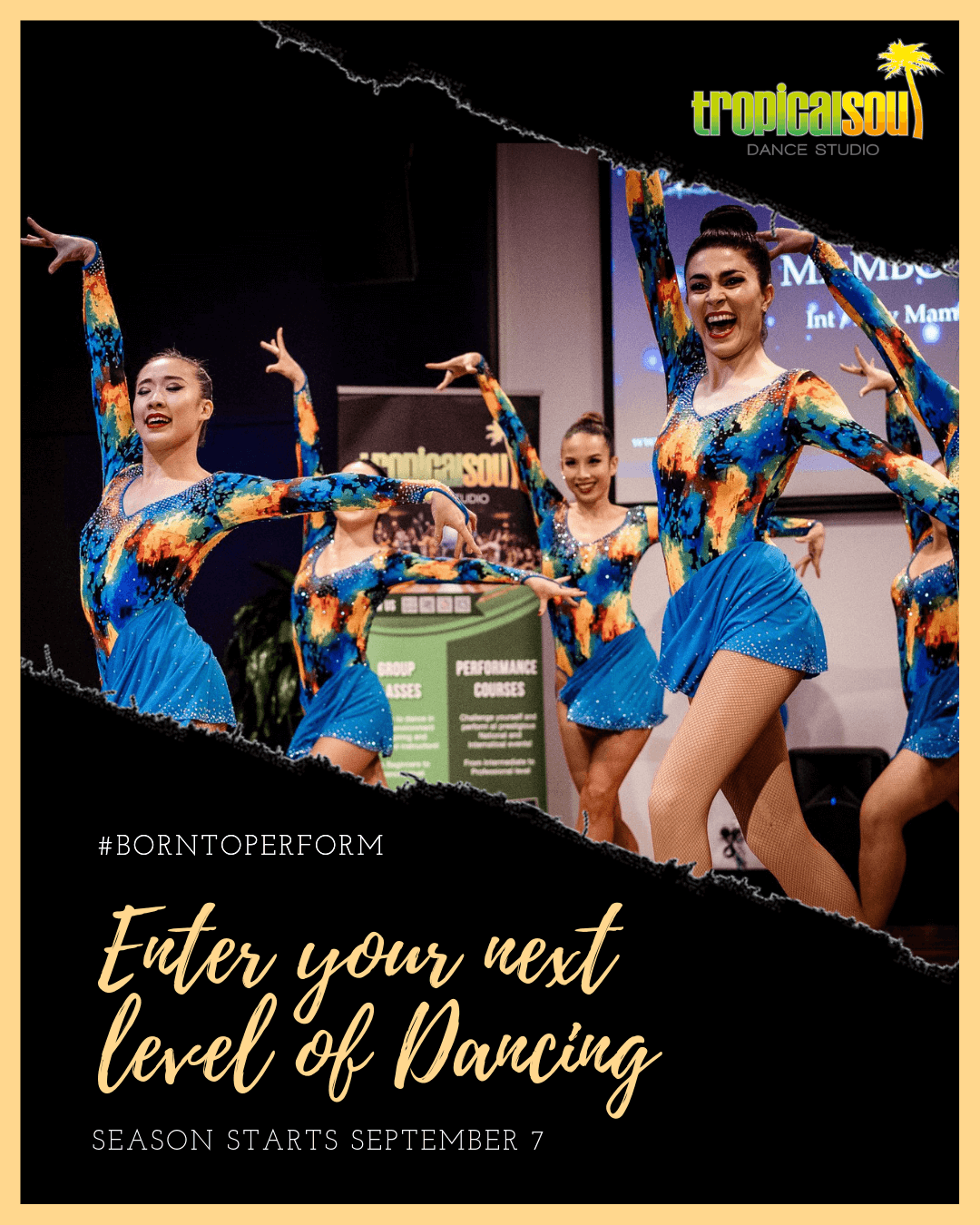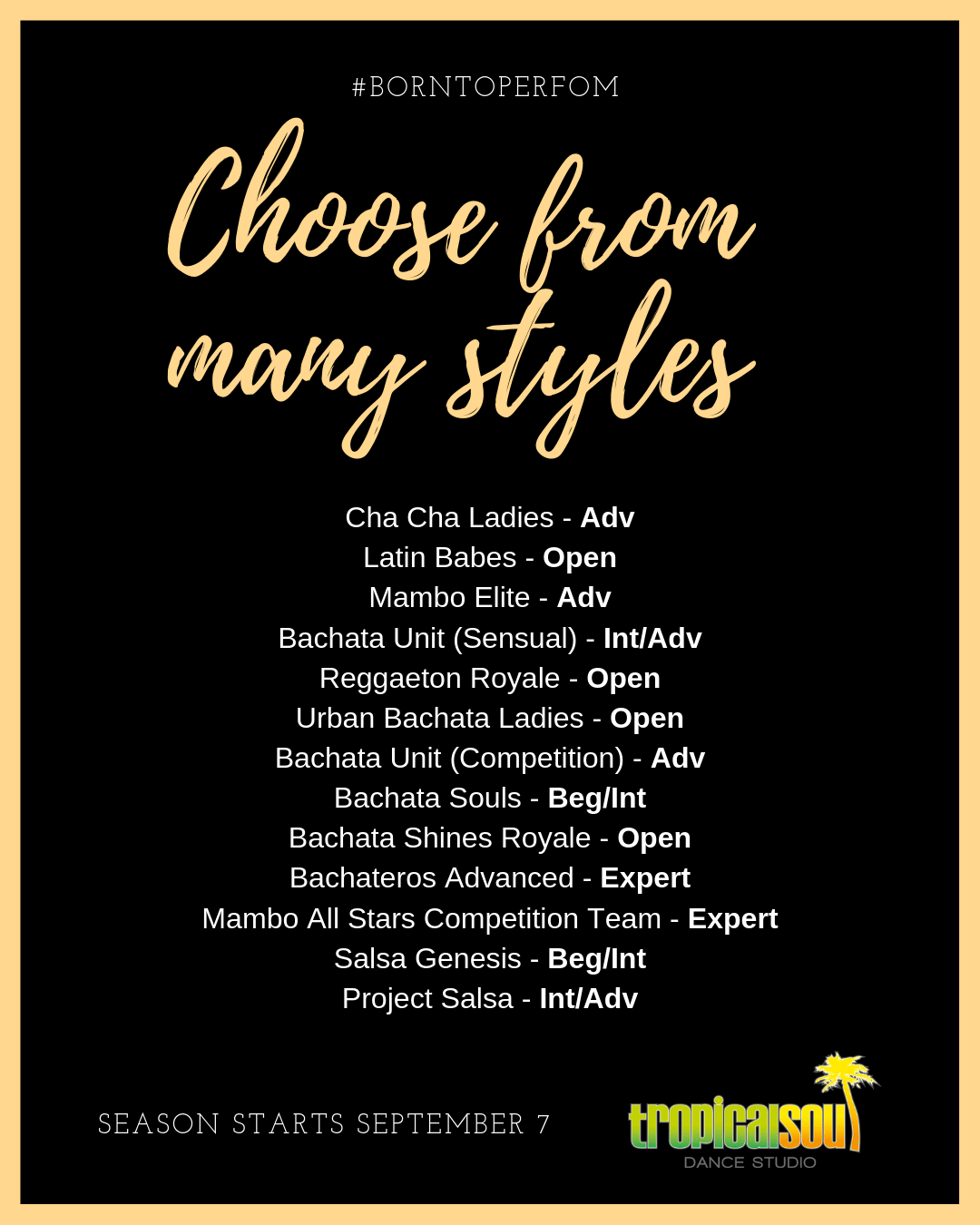 Beginners
You have exposure to the dance style and understand its basic concepts but lack experience
Intermediate
You have experience with and can carry out the dance style but don't understand its advanced concepts
Advanced
You have solid experience and training with the dance style and understand advanced concepts
Expert
You demonstrate proficiency and superior dance style level, beyond advanced
Open
For any level of dancers. Everybody is welcome
*Please ensure to get approval from the team leader before registering for the following choreographies: Cha Cha Ladies, Mambo All Stars and Bachateros.
The choreography fee covers:
The weeks of training for each season
Entry to the Tropical Soul GALA (Summer or Winter)
Free access to HD video of your performance
Free access to digital photos of your performance
Team t-shirt at a discounted price of $20 (valued at $30)
NOTE: Performer passes to events other than GALA are not covered in the fee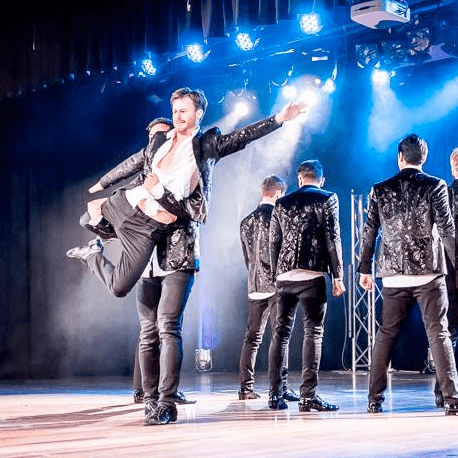 Keep the following Terms & Conditions in mind...
When registering for a choreography course, you agree to the following terms and conditions:
Choreography fees are non-refundable as TSDS must pre-plan team details such as number of couples and/or individuals, choreography routines and arrangements, and other resources. TSDS is not responsible if you change my mind or your circumstances change.
Full payment of the choreography course(s) is due on or before the start of your choreography course.
Discounts on multiple choreography course(s) only apply within the current choreography session (ie. not for any other previous choreography sessions).
By booking for this choreography course, you're confirming that you're available and committing yourself to attend ALL the training sessions.
Extra training sessions with your team or dance partner may be required, and you are willing to go all in and work hard to become the best dancer you can be!
Any additional training session with the choreographer, outside of the scheduled session, will be extra and will incur a separate payment.
If more than 1 training session is missed, a private lesson will need to be booked with your choreographer to catch up.
If you miss more than 3 training sessions, understand you may not have the chance to perform with your team.
Plan approximately $100 (exclusive of dance shoes) for the purchase of your performance costume.
The use of any images and/or videos made from trainings, rehearsals, and the performances may be used for promotional purposes by TSDS, so don't forget to smile!
TSDS reserves the right to update the choreography timetable. Students will be advised of any changes at least 2 weeks before the changes occur
All choreography must have a minimum number of couples (or dancers) in order to go ahead. If numbers are not met, TSDS will cancel the choreography course, refund the amount paid or move the registration to another choreography course.
* Some Advanced level choreography teams require for you to get approval from the team leader before joining. Please inquire before booking.