Join us on Saturday for one of Sydney's hugest Latin events: the famous LATIN GALA !
Twice a year, we come together in celebration of our love of Latin dance. The Latin Gala combines all of the best elements of the scene – style, passion, hard work, performances, awards, social dancing, and PARTYING!
Let us entertain you with stunning shows across the night, including international sensation Franklin Liranzo's final Sydney performance!
And whenever we're not showcasing great performances, you'll be social dancing to the best in Salsa, Bachata, Kizomba & Zouk – choose from 2 ROOMS for more dancing, more people, and more fun!
Everybody is welcome to join this amazing night of dancing and friendship!
Dance till 2AM, yes, 2AM!! That's more than 4 hours of social dancing!
▲▼▲▼▲▼▲▼▲▼▲▼▲▼▲▼▲▼▲▼▲▼▲▼▲▼▲▼
VENUE: City Tattersalls
Corner of Market St and Pitt St, Sydney
▲▼▲▼▲▼▲▼▲▼▲▼▲▼▲▼▲▼▲▼▲▼▲▼▲▼▲▼
PROGRAM OF THE NIGHT:
7:00pm Doors open
7:15pm Latin Dance class
8:00pm GALA SHOW SET
9:00pm Latin DJs
10:45pm TROPICAL SHOW SET
11:00pm Latin DJs and dancing 'til 2am!!
▲▼▲▼▲▼▲▼▲▼▲▼▲▼▲▼▲▼▲▼▲▼▲▼▲▼▲▼
2 DANCE FLOORS!
– Main Room: SALSA, CHA CHA & BACHATA
– The Remix Room: KIZOMBA, ZOUK & BACHATA Remixes
▲▼▲▼▲▼▲▼▲▼▲▼▲▼▲▼▲▼▲▼▲▼▲▼▲▼▲▼
DRESS CODE
As this is a GALA night, we ask all of our guest to dress accordingly with their best attire for the night.
We will have photographers snapping photos, plus a media wall too!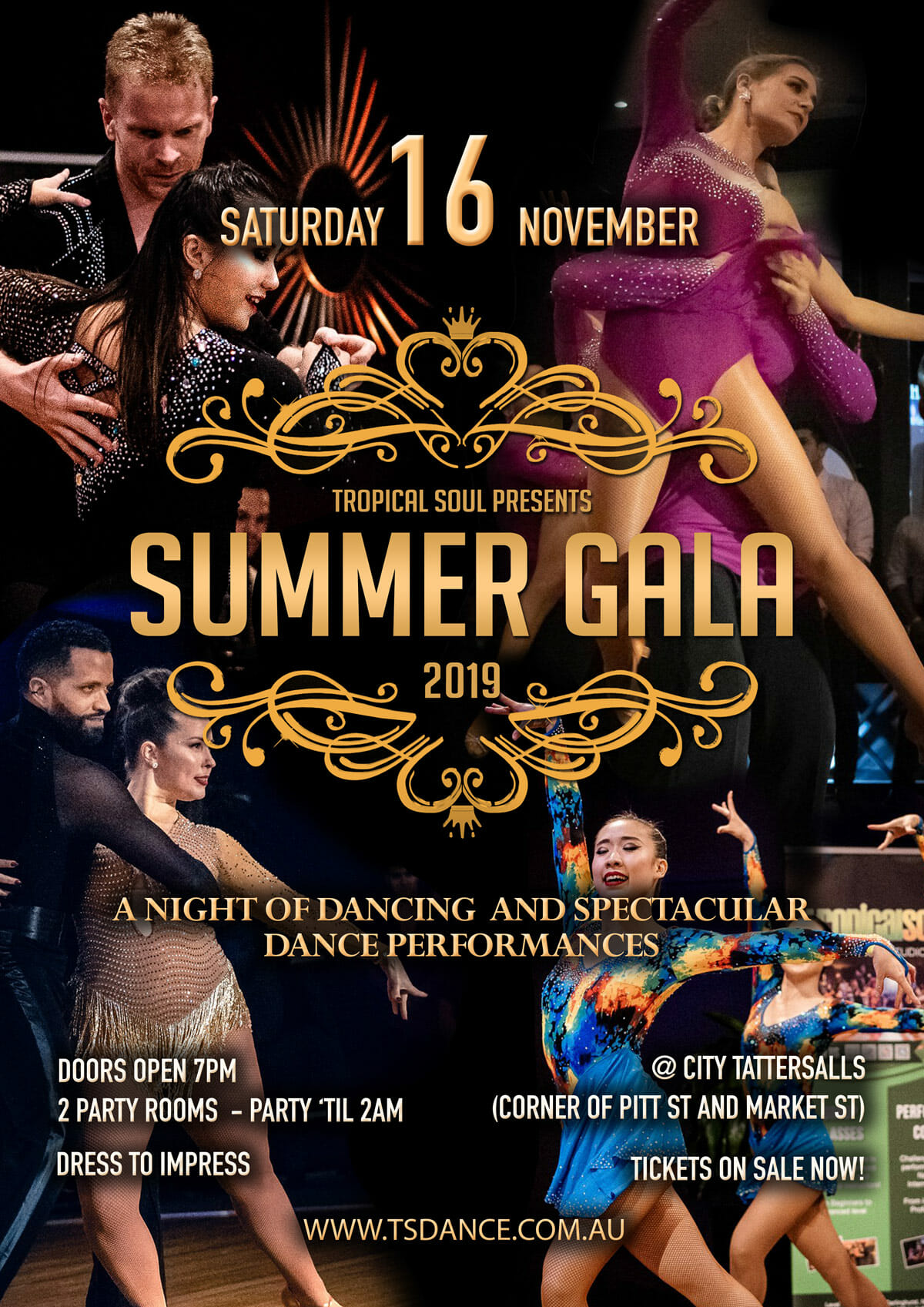 PRICE
$30 First Release, $35 Second Release, $38 day of event
$38 on the day of the event AND at the door