NEW TERM STARTS THIS WEEK
BEGINNER DANCER?
FREE ABSOLUTE BEGINNERS CLASSES
Enjoy a 25min class, 2 to 5 students for personalized education, focusing on the basics steps of Salsa or Bachata
ALREADY A DANCER?
ENJOY 1 WEEK ON US!
We're confident that you'll enjoy your time at TS, and we're offering you 1 week of dancing for free!
DANCE AS MUCH AS YOU WANT!
We'd love for you to dance Salsa, Bachata, Kizomba, Zouk, Mambo, Cha Cha as much as you want! Memberships are the best value for money.
We also offer Class Passes! Have a look at our pricing options:
WE ARE THE LATIN DANCING SPECIALISTS
SALSA, BACHATA, KIZOMBA & ZOUK
We've been fortunate to teach thousands of people. We have made people dance! We love Salsa, Bachata, Kizomba, Zouk, Cha Cha, Mambo and all the latin dances! You'll feel right at home in our studio, surrounded by positive and like-minded people! Be part of the Soul-Mates community! Our studio is located in the Inner West side of Sydney, in the beautiful suburb of Annandale.
NOW
IS THE 
BEST TIME
TO START
HAVEN'T DANCED BEFORE? FREE ABSOLUTE BEGINNERS CLASSES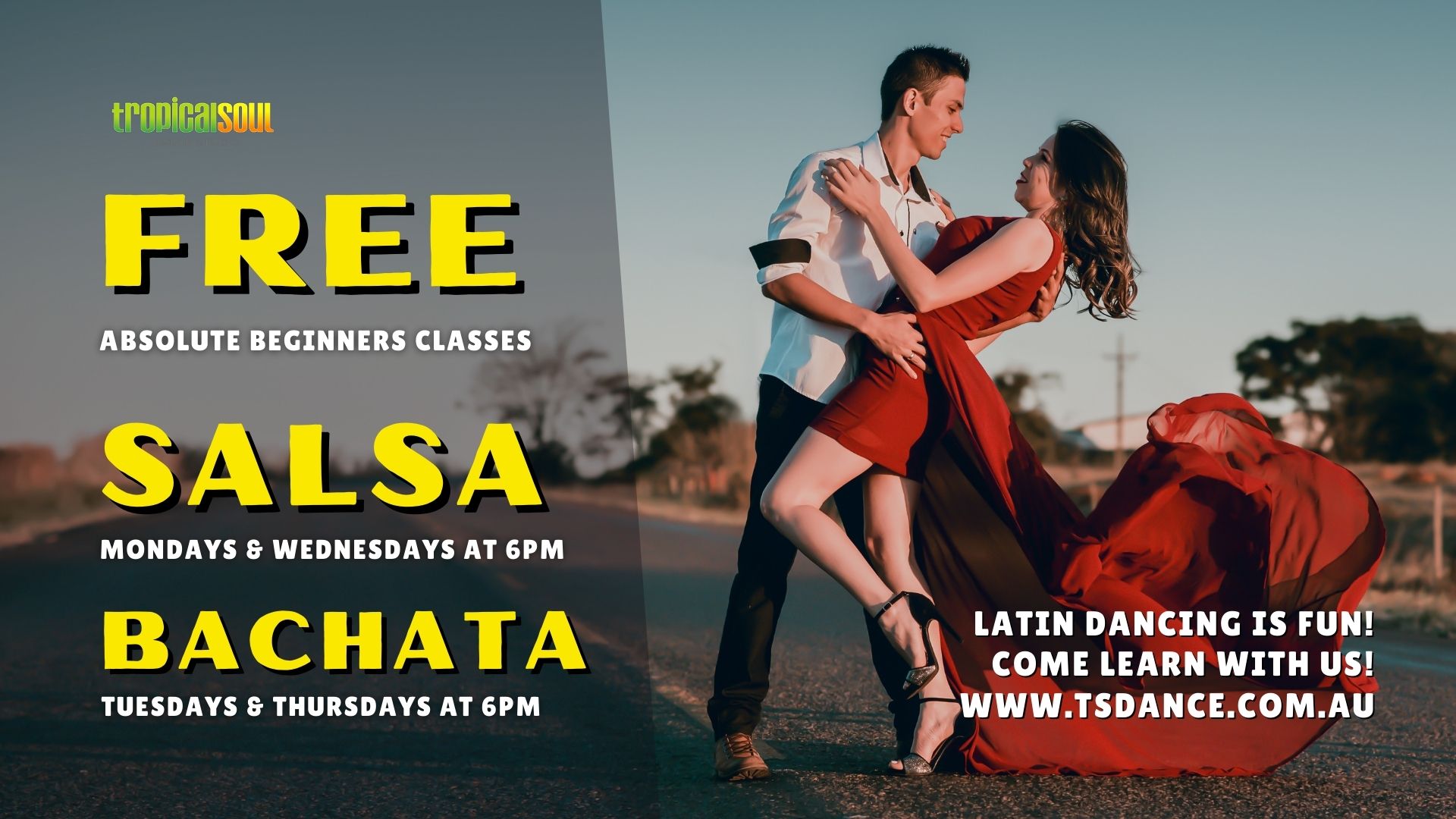 We understand that it might be intimidating to join a dance class if you haven't danced before. This is why we are offering
FREE ABSOLUTE BEGINNERS classes in SALSA and BACHATA!
Join us for a fun 25 minute class, and learn the basic steps from one of our caring and talented Latin dance instructors.
Feel free to come back for the Absolute Beginners classes as many times as you'd like!
ALREADY EXPERIENCED DANCER? FREE 1 WEEK!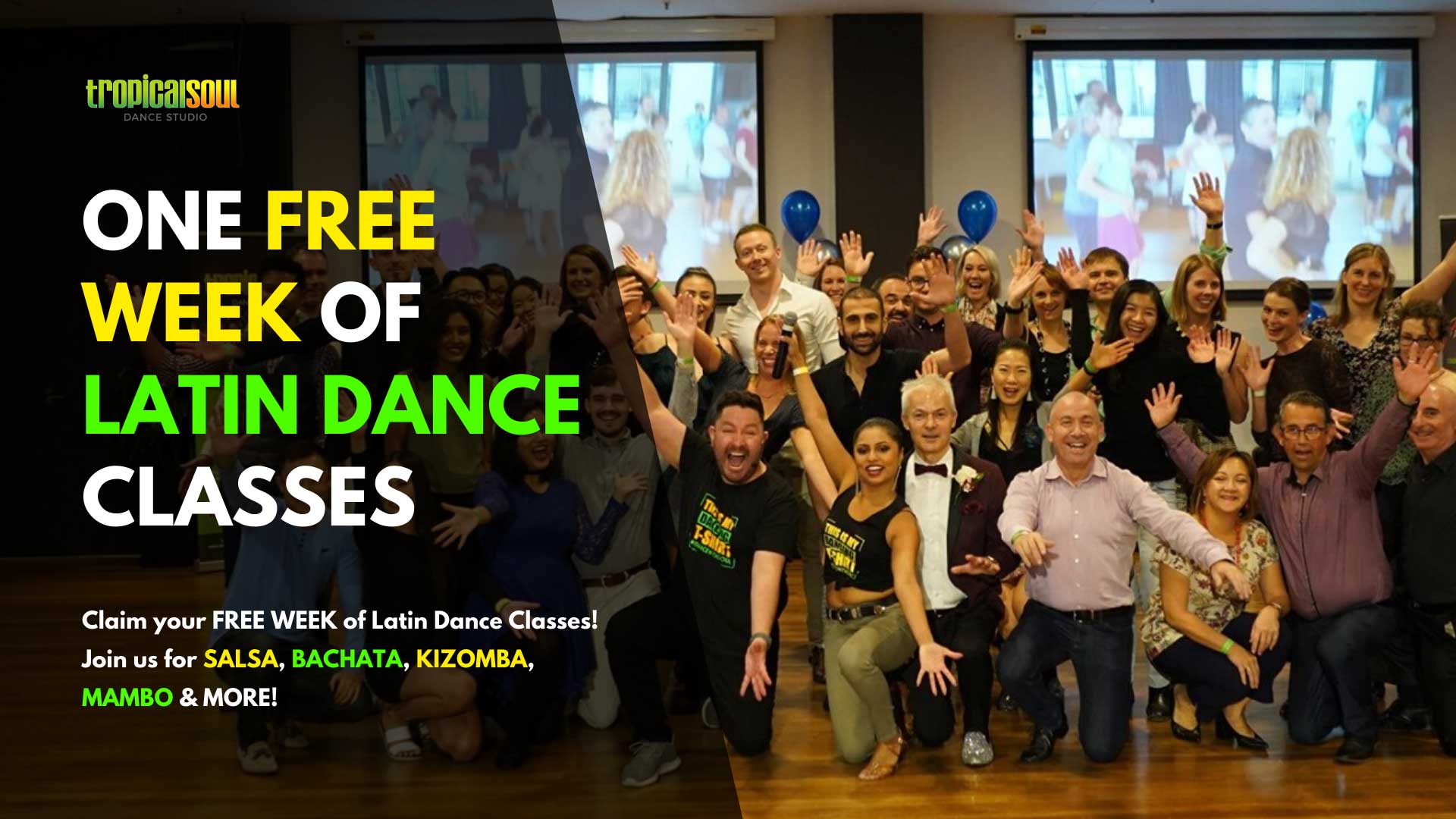 Do you already know how to dance and want to give us a try? Take advantage of this offer! You have nothing to lose and lots to gain! We offer SALSA, CHA CHA, BACHATA, MAMBO, ZOUK, KIZOMBA and more! This is an amazing offer – For new students only!
Attend unlimited dance classes at no cost for 1 full week!
T&Cs apply.
LATIN DANCE CLASSES
IN SYDNEY
SALSA, BACHATA, KIZOMBA and more LATIN DANCES
WELCOME TO THE HOME OF LATIN DANCE!
Tropical Soul is one of the most popular and respected Latin Dance studios in Sydney and Australia. We offer Latin Dance classes in Salsa, Bachata, Mambo, Cha Cha, Kizomba, Zouk and more Latin styles from Beginners to Advanced level. We take pride in creating a wonderful community of dancers and friends! Not only will you learn to dance, or have the opportunity to perform on big stages (if you wish to!); you will also increase your social circle and make lots of new friends!
Beginner dancers are welcome!
Let us teach you your first Salsa or Bachata steps with our Absolute Beginners Classes – and they are FREE!
Experience Dancers
We have plenty of advanced Salsa, Mambo and Bachata classes throughout the week. New to the studio? Claim your 1-WEEK FREE!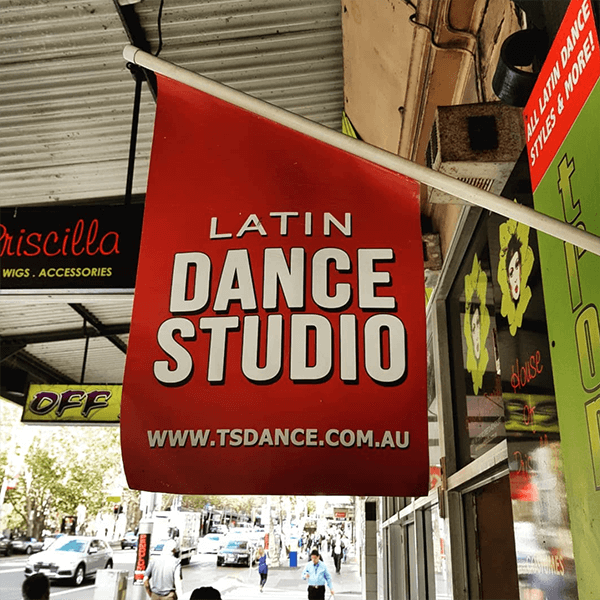 OUR MAIN STUDIO is located in the beautiful neighbourhood of Annandale, on Parramatta Rd, in the Sydney's Inner West. There is plenty of public transport options, and lots of on-street (and free) parking space.
We teach 30+ dance classes a week, from Beginner to Advanced levels. Salsa, Bachata, Kizomba and more!
We also teach casual classes and workshops in various locations around Sydney. Follow our FB PAGE to stay up-to-date!
UPCOMING EVENTS 
AND ACTIVITIES