We offer private lessons for individuals, couples, and groups here in a variety of dance styles with trained professionals.  No matter what your level is, we'll find out what your strengths and weaknesses are to better assess how we can help you improve. There are many benefits to taking private lessons with our instructors:
Personalised one-on-one attention
Better development and focus on technique, either in leading or following, as well as shines
Flexibility to your schedule
More opportunities to ask questions and address any concerns or issues
Plenty of time to work and fine-tune the individual's/couple's/group's style
Fast track learning as a result of a more focused direct approach
Private lessons are great and available for:
Body movement
Turns and spins
Extra class practise (Syllabus based)
Posture and lines
Leading and following techniques
Additional choreography/performance course training
and more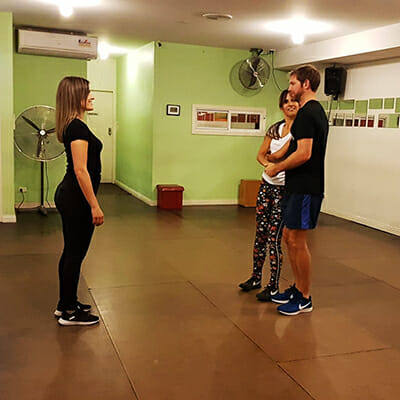 For more information and to book your private lesson, please don't hesitate to contact us.  We'll be able to better guide and help you out!
Private Lessons can be cancelled with 24 hours notice to receive a full refund. Otherwise, the full amount is charged
DON'T DELAY YOUR LEARNING!
If you are really keen on improving your dancing, then PRIVATE LESSONS with one of our TOP instructor is your best bet! You will see a drastic improvement after spending just one hour in a private lesson.
Please fill out this online form and we'll be able to better guide and help you. The more detail you give us, the better.
After we receive your form, one of our Senior Instructor will get back to you to organise an initial consultation/meeting at no cost.
TESTIMONIALS
Investing time and money with a dance instructor can be something daunting that you need to make sure you are in the right hands with the right people. These are some of the testimonials of people who have done private lessons with us. You won't be dissappointed, we can guarantee that!
In just one hour, I feel that I learnt so much! Thanks Juan for all your help! That hour was amazing!
WOW! I didn't know that I didn't know so much! Now I know the little intricacies of Salsa, and how to make it look good! 
I have spent many hours with Josie. She is amazing! She has helped not only improve my dancing, but also my confidence on the dance floor. Her attention to detail is incredible, and every question that I had, she had the correct answer. Definitely, private lessons is the way to go!
Josie has coached us through two couple choreographies over about a year, and we are so happy with what we have achieved with her guidance. She has transformed us as dancers with her thorough explanations and attention to detail. She has been patient and dedicated, and has given us the ability to dance and perform with more confidence. In our experience, it has been quite difficult to find a great dancer who is also a great teacher, so we are immensely grateful to have found Josie. Private lessons have been one of the best investments we have made. They have made such a big difference to not only our dancing, but our confidence and life in general. 
FREQUENTLY ASKED QUESTIONS
We don't have any experience dancing. Will a private lesson be suitable for me?
100%. Our instructors will guide you from step one, so you have the confidence to learn on your own pace
Should I do group classes as well as private lessons?
In a private lesson, you get individual attention. However, we do recomend to do group lessons as you can dance with other students and solidy your learning on your private lessons
Can I cancel my private lesson?
Yes you can, but you need to give us 24 hours notice, so we can re-schedule your lessons. Failure to do it, it will incur 100% of the cost, as we need to organize instructors, and they need to organize their time
Where will our lessons take place?
The prices quoted apply to lesson held at our studio in Darlinghurst, but we can also arrange for lessons at a location of your choice for an additional off site location fee. Let us know if this is something you're interested in.