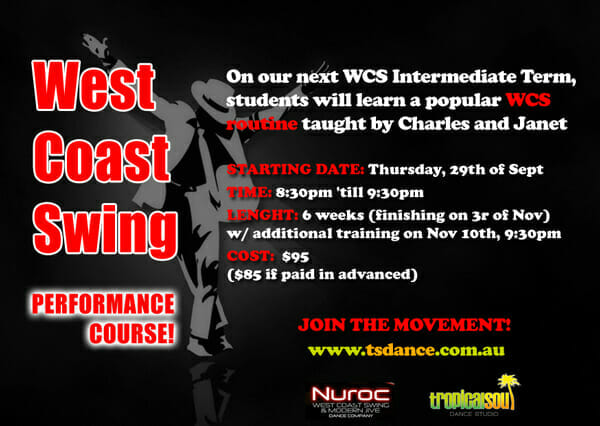 WCS PERFORMANCE COURSE
On our next WCS Intermediate Term, students will learn a popular WCS routine taught by Charles and Janet, from NUROC! Yes, you will learn a proper WCS choreography, which includes turn patterns, styling, dips, highlights and more! The song is "Forever" by Chris Brown
STARTING DATE: Thursday, 29th of Sept
TIME: 8:30pm 'till 9:30pm
LENGHT: 6 weeks (finishing on 3r of Nov)
w/ additional training on Nov 10th, 9:30pm
COST: standard price for a regular 6 weeks course: $95
($85 if paid in advanced) – REGISTER NOW!
Students will have the chance to perform the routine at the Tropical Summer Gala Party. Performance is optional, but encouraged 🙂 (Entry to the Tropical Summer Gala Party not included in price).
This is one of a kind opportunity! The WCS community in Sydney, and more specially in the Latin Dancing community is growing! Now is our chance to show them what have we learnt, and what we can do!
We hope you will join us in this fabulous experience!
– The TSoul Team!