December is almost here! Which means… CHRISTMAS TIME IS ALMOST HERE!
Have you enjoyed the classes here at Tropical Soul Dance Studio? Why not share the JOY and the gift of dancing with your loved ones?
Invite them along by giving them the TROPICAL SOUL GIFT CERTIFICATE this holiday season!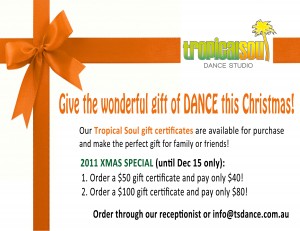 Be sure to purchase your gift certificates before December 22 in order to receive the 2011 XMAS SPECIAL:
Order a $50 Gift Certificate and pay only $40
Order a $100 Gift Certificate and pay only $80
Book now by coming into our studio or through info@tsdance.com.au