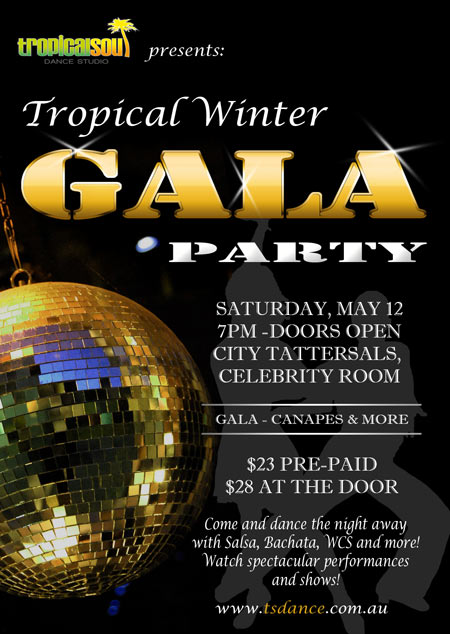 We're excited to announce the TROPICAL WINTER GALA PARTY will be held on Saturday, May 12th!
We'll be showcasing the best talent and, of course, your best outfits.
It'll be a night to remember with:
Canapes
Spectacular performances and shows from Salsa, Bachata, Burlesque, and more!
Surprises
Prizes to be won…
….and of course, DANCING!
The spacious dance floor will allow you to glide all night long from one end to the other. We'll be featuring the best of Salsa and Bachata so come join us for a night of great dancing, fantastic shows, and plenty of smiles!
Schedule for the night:
7:00pm Doors open
7:30pm Canapes are served
8:30pm Shows & Performances
9:30pm Dancing 'til 1am!!
Be sure to GET YOUR TICKETS TODAY:
PRICES
BUY IT NOW
$23 Pre-Paid
$28 at the door
NOTE: Online transactions (in this case, Paypal) incur a 2% fee which is displayed as Shipping & Handling. No paper ticket are issued if ticket bought online. The Paypal receipt is your ticket. Bring the receipt on the night