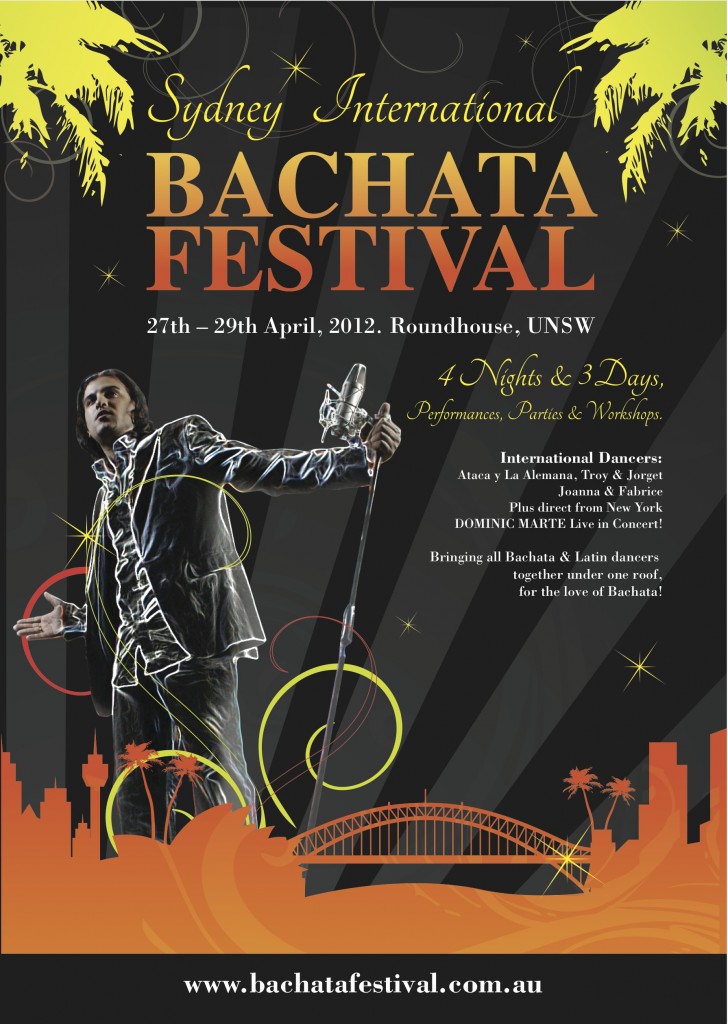 SAVE THE DATE!
The famous Sydney International Bachata Festival is getting ready for its 2012 edition!  The Bachata Festival will take place from 27th – 29th April 2012 at the Roundhouse, UNSW, Sydney.
Get ready for 3 days of awesome workshops & 4 nights of prestigious parties, world class performances & an urban Bachata concert!
Back by popular demand we are bringing you International dancers: ATACA Y LA ALEMANA plus for the Dominican Bachata lovers TROY & JORGET, also we have FABRICE and JOANNA from France, and once again, SERENA CUEVAS!
Also, live in concert for the first time in Australia, we are proud to bring Top #10 Latin Billboard singer and Latin Grammy Award Nominee, the famous Bachata singer DOMINIC MARTE all the way from New York.
It certainly is going to be one of the best Bachata Festivals yet!
VENUE: Roundhouse, UNSW (same big venue as last year)
http://www.bachatafestival.com.au/
Tropical Soul is getting ready to be part of this amazing festival once again! Last year, the Sydney International Bachata Festival was the event that introduced the Tropical Soul performance teams to the Latin community in Australia, so we can't wait to show them what we have for this year!
Have a look at our performances for last year! and get ready, because this year it is going to be bigger and better!