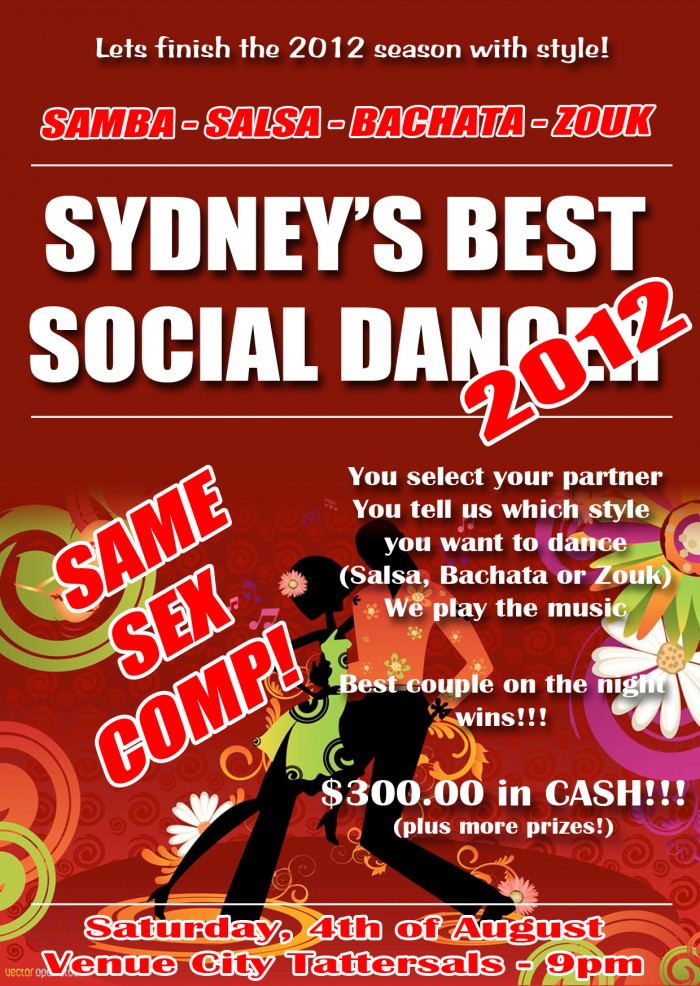 What a year! the Sydney Best Social Dancer Season always brings the best dancing in Sydney! Lets celebrate the end of another successful season and lets get ready for next year!
END OF SEASON SYDNEY BEST SOCIAL DANCER 2012
————————–——————
We have our winners
ZOUK: Amit and Angela
BACHATA: Jared and Susan
SALSA: Sam and Angela
SAMBA: tbc
All of our winners will be there wearing their awesome t-shirts!
SAME SEX COMPETITION!!!!
————————–———
Oh yeah! We know a lot of people have been preparing for this one!
RULES
– Your partner must be of the same gender as you
– You select the style you want to dance (salsa, bachata, zouk)
– We play the music
– You have 2 minutes to impress the judges AKA the audience!
PRIZES
$300.00 CASH plus lots of more prizes!!!
REGISTER NOW !!!
0402993244
DATE & VENUE
————————–————–
Saturday, 4th of August
Venue: Spanish Club, 88 Liverpool St

TICKETS
————————–————-
Pre-paid: $15
At the door: $20