"The Dancer's Spotlight" is a new section of the TSDS website & newsletter that will feature some of our talented pool of dancers.
We'll ask them a few questions and get to know them a little better and explore their history and experiences with Latin dancing.
Our first is  kicking-off with Elinor, who comes all the way from Europe (Ikea land specifically!) and finds herself regularly dancing various styles from Bachata, Salsa, WCS, Kizomba, and Samba just to name a few!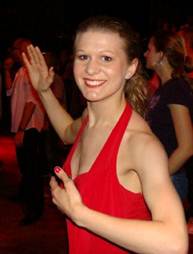 The down low:  Elinor J., 27, Sweden
Sydney link:  Arrived in February to do an exchange at the University of Sydney studying Wildlife Health.
How it started: In 2008, I went on a trip to Central America and Cuba with some friends. We met some amazing dancers that inspired me, and the same week that I returned to Sweden, I signed up at a school teaching Latin dance.
Since then, I have met so many nice people and had lots of fun dances!
All-time favourite song: Yo No Se Manana – Luis Enrique
Best new song: Incondicional – Prince Royce
Salsa or Bachata: Bachata J
Got questions to ask our next featured dancer? Submit them to info@tsdance.com.au and you might see your question being asked!