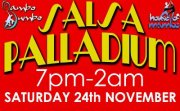 COME SEE THE TROPICAL SOUL TEAMS STRUT THEIR STUFF!
Sydney's BIGGEST SALSA BI-ANNUAL EVENT, the Salsa Palladium will feature the B-Unit, Bachateros Advanced, Samba & Advanced Ladies Shines choreo teams!
Support the teams and have a fun time while you're at it!!!
Details and schedule will follow soon!
You can't miss out on this GREAT event! There's going to be heaps of performances throughout the evening and LOTS OF DANCING!!!!
Tickets on-sale at the studio's reception desk!