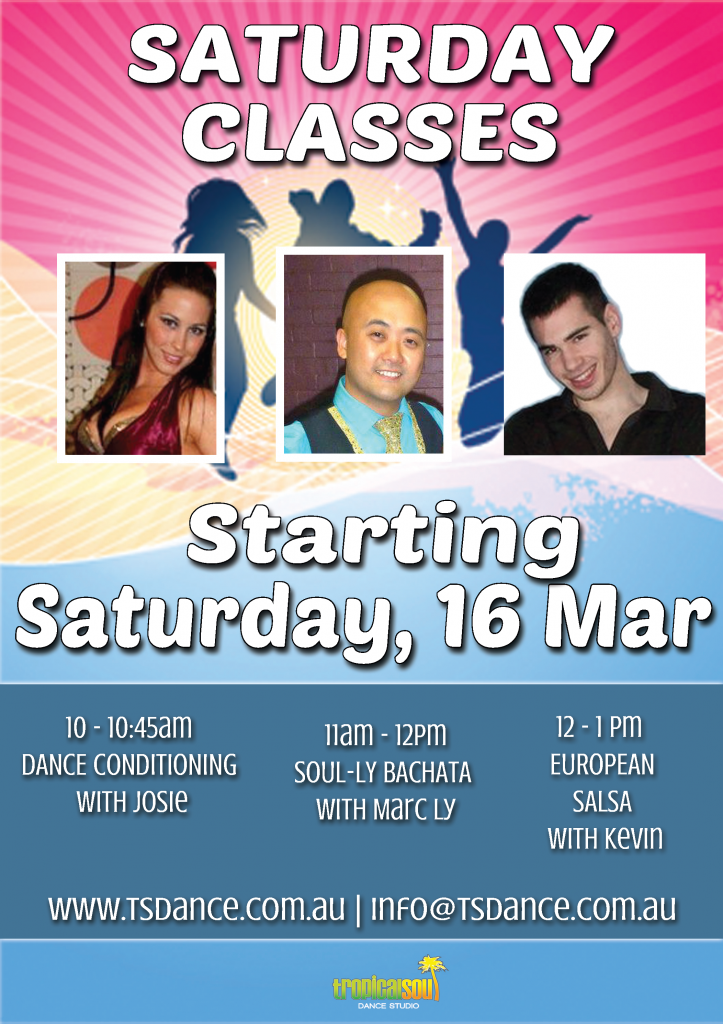 Thanks to all those who came out last Saturday for our Open Day!
As a result of the success, we will now be offering WEEKLY SATURDAY CLASSES starting on Saturday, 16 March. Please see below for the schedule:
SATURDAYS
10-10:45am: Dance Conditioning with Josie*
11am-12pm: Soul-Ly Bachata with Marc
12-1pm: Euro Salsa with Kevin
*Dance conditioning will focus on a wide variety of exercises borrowed from ballet, pilates, yoga and more. It will build your core and lower body strength, your flexibility, lines, and techniques. Wear your gym or yoga-style/stretchy clothes and bare feet are preferred. Also bring a small towel or a yoga mat if you have one. We suggest you bring a change of clothes if you are staying for the other classes.
Pricing:
$20: Casual
$105: 6-class pass (valid for 2 months)
$150: 10-class pass (valid for 4 months)
Members:
If you're a TS member (3/6/12 month contracts), the class is included in your membership so be sure to sign up!
Contact us for any questions at 02 9261 1535 or by email at info@tsdance.com.au
BUY YOUR PASS ONLINE
Saturday classes work in a CASUAL BASIS. You can buy a single class pass, a 6 or 10 class pass.
TIME
STUDIO
CLASS
PRICE
REGISTER
10:00am
Studio 1
DANCE CONDITIONING w/ Josie
1 Class $20
6-Class Pass $105 (valid for 2 months)
10-Class Pass $150 (valid for 4 months)
11:00am
Studio 1
SOUL-LY BACHATA w/ Marc
12:00pm
Studio 1
SALSA TRAINING w/ Kevin Benamar
ALL Online transactions will incur a 2% fee displayed as "Shipping & Handling". Please refer to our Price Structure for more information.