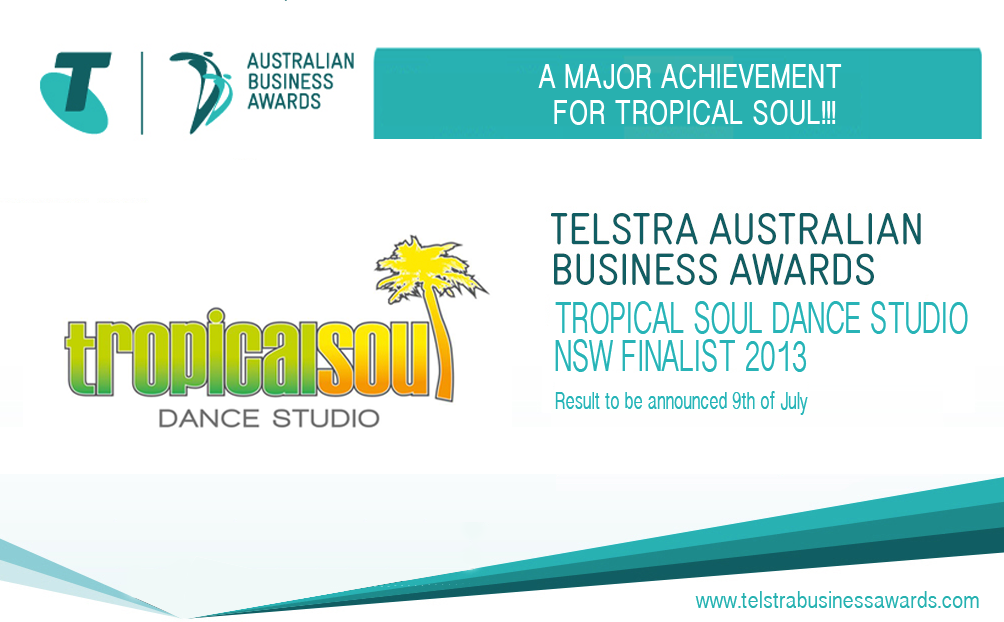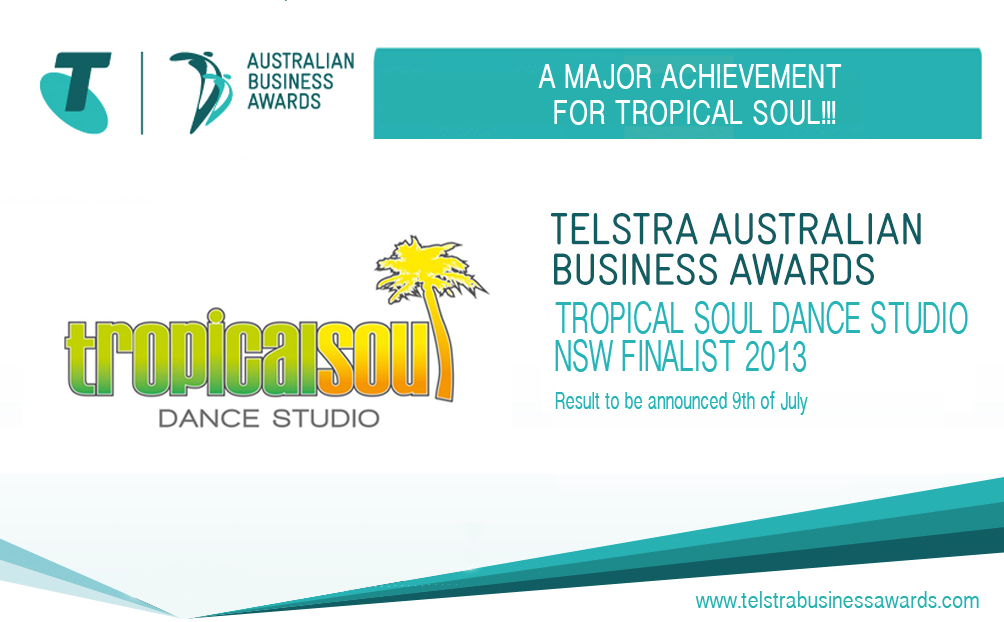 We are happy to announced that Tropical Soul Dance Studio is a finalist at the pretigious Telstra Business Awards 2013 – Start Up division. Prestigious and coveted, the Awards program celebrates the country's entrepreneurs and innovators. It offers a unique chance for small to medium businesses to be recognised for their hard work, commitment and of course, success. All finalists and winners join the Telstra Australian Business Awards Network, allowing continued networking in a private and exclusive online environment. Read the Press Release for the NSW businesses.
Have a look at the business from NSW Finalist List. The awards ceremony will be held on Tuesday, 9th of July, where we will know if Tropical Soul is the winner of this prestigious award! If you wish to accompany Juan and Josie in this ceremony and attend the Gala dinner, please let us know.
Let the judges from the Telstra Business Awards why Tropical Soul should win the award! Support your finalists
'We feel privileged to be working in the dance industry and our students can feel that we do this for the sheer love of it.' Juan Ruiz, Director
What started as a hobby quickly became a passion and then a way of life for Juan Ruiz and Josie Cote. Moving to Australia from South America in 2004 and Canada in 2006 respectively, the pair quickly built a strong reputation as Latin dance instructors and performers. Growing tired of travelling to different studios, in 2011 they created a dance centre in Darlinghurst, called Tropical Soul Dance Studio. With 18 instructors, the studio teaches 11 different styles of Latin dance rhythms, from Salsa, Bachata to Cha Cha and Kizomba, across 35 classes each week for adults and children. The business organises monthly socials, various dance activities locally and nationally, creating a large community of dancers and friends. In just two years, student numbers have grown from 40 a week to more than 300. They have also trained a number of successful student teams that have competed and performed at national and international events.