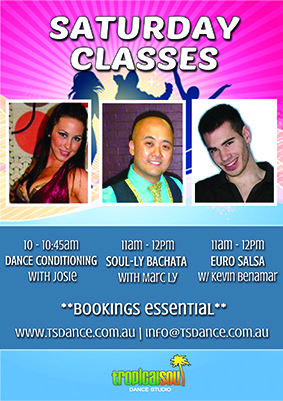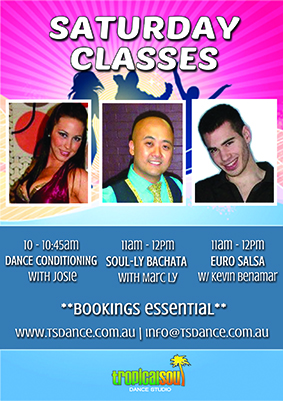 Not getting enough dancing in during the week?
Why not start your weekend with us then? Saturday is the day to take your dancing to a new level, focusing on strength and flexibility with Josie, Bachata technique fundamentals with Marc, and the latest developments in Salsa with Kevin.
10-10:45am: Dance Conditioning with Josie*
11am-12pm: Soul-Ly Bachata with Marc
12-1pm: http://www.tsdance.com.au/classes/dance-styles/#Euro Salsa Kevin
*Dance conditioning will focus on a wide variety of exercises borrowed from ballet, pilates, yoga and more. It will build your core and lower body strength, your flexibility, lines, and techniques. Wear your gym or yoga-style/stretchy clothes and bare feet are preferred. Also bring a small towel or a yoga mat if you have one. We suggest you bring a change of clothes if you are staying for the other classes.
Pricing:
$20: Casual
$105: 6-class pass (valid for 2 months)
$150: 10-class pass (valid for 4 months)
Members:
If you're a TS member (3/6/12 month contracts), the class is included in your membership, but be sure to sign up so we can allocate a place to you.
Contact us for any questions at 02 9261 1535 or by email at [email protected]