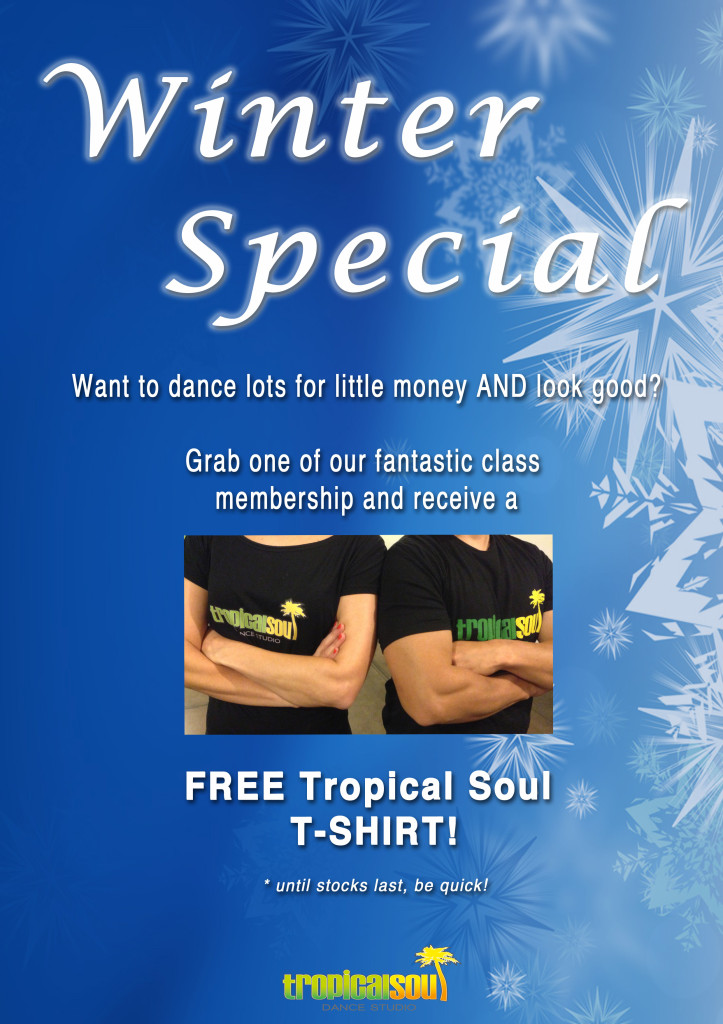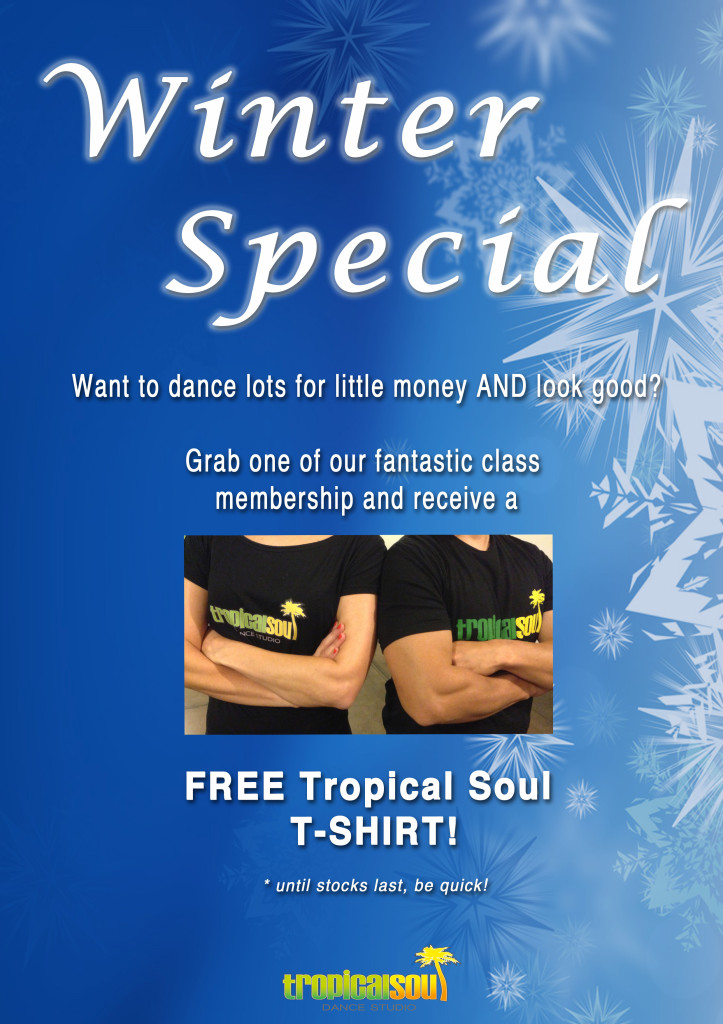 JOIN OUR TROPICAL SOUL MEMBERSHIP PROGRAM TO RECEIVE UNLIMITED DANCE CLASSES AND GET YOURSELF A FREE TROPICAL SOUL T-SHIRT TOO!

For a limited time only we are offering all new Tropical Soul members a free t-shirt when you sign up to join our club.
Membership allows you to dance all you want for as little as $29 per week! When you sign-up for a membership, you get more dancing for less money and can start enjoying all the benefits straight away!
Whatever your goal is – making new friends and a great social circle, increasing your physical activity and getting fit, or simply becoming an awesome dancer – we have what you need!
With our new term just about to start on Monday 30th June there is no better time to join and start taking advantages of all our awesome classes on offer.  See our lovely receptionist to sign up today!
Start to save as soon as you attend only 3 classes/week!
For example, our Gold members pay only $28 per week – which represents…
… $9.55 per class when taking 3 classes per week

… $7.15 per class when taking 4 classes per week

… $5.75 per class when taking 5 classes!

… Now that's awesome!
Get unlimited access to the weekly 6-week courses offered by Tropical Soul Dance Studio:
LA Salsa, NY Salsa, and Cuban Salsa
Bachata and Street Bachata
Brazilian Samba
West Coast Swing
Kizomba
Zouk-Lambada
Rueda
In addition, this pass also offers a 10% discount on all
Tropical Soul and Bachateros merchandise and products (T-shirts, DVDs)
Tropical Soul workshops
Tropical Soul choreography courses
The more you dance the more you save! With great memberships come great benefits!
Membership
Price
Notes
Bronze Member
3 month contract
$164 per month
(only $38/week)
Payable monthly (Visa or Mastercard)
$30 one-off setup fee
Upfront payment of $492 also available (no setup fee)
Silver Member
6 month contract
$149 per month
(only $34/week)
Payable monthly (Visa or Mastercard)
$30 one-off setup fee
Upfront payment of $894 also available (no setup fee)
Gold Member
12 month contract
$124 per month
(only $29/week)
Payable monthly (Visa or Mastercard)
$30 one-off setup fee
Upfront payment of $1,488 also available (no setup fee)