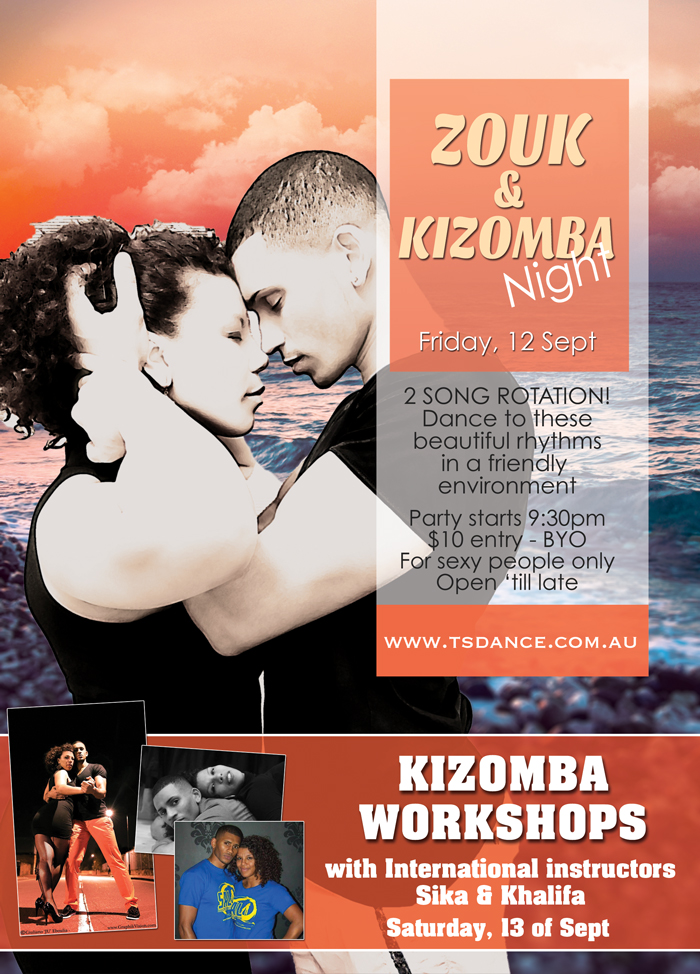 We are so excited to announce that Tropical Soul will be hosting a weekend full of workshops taught by some great International Instructors!
As part of their Australia Tour, SIKA & KHALIFA will be in Sydney right after the MELBOURNE KIZOMBA FESTIVAL! They are some of the most popular Kizomba instructors in the world, and this will be the first and only time they will be in Sydney!
They will be with us for the ZOUK & KIZOMBA party, on the Friday, 12th of September. This will be the best chance to get to know them, hang out with them and have a dance too! They will be doing a show on the night!
Then, on Saturday, 13th of Sept, they will be teaching 3 hours of workshops before they depart back to Melbourne to catch their flight to go home.
SCHEDULE
FRIDAY, 12th Sept
9:30pm – ZOUK & KIZOMBA Party with DJ Super Juan
11pm – performances by Sika & Khalifa and Theresa
Cost is only $10 for the party
SATURDAY, 13th of Sept
3 workshops plus social dancing
12:00pm – KIZOMBA Sexy Fundamentals (Open Level)
1-1:30pm – LUNCH / Social Dancing
1:30pm – KIZOMBA Smooth Moves (Inter/Adv)
2:30pm – TARRAXINHA (Open Level)
All workshops are progressive. We highly recommend to do all 3 workshops (instead of just one) to get the most of these international instructors
PRICE
1 workshop $30
2 workshops $55
3 workshops $80
FEW SPOTS LEFT – Register at the studio
LIMITED SPACES! If you are purchasing 1 or 2 workshops, please indicate on the Paypal page which workshop you are taking. We will be giving preference to those that register to the 3 workshops.