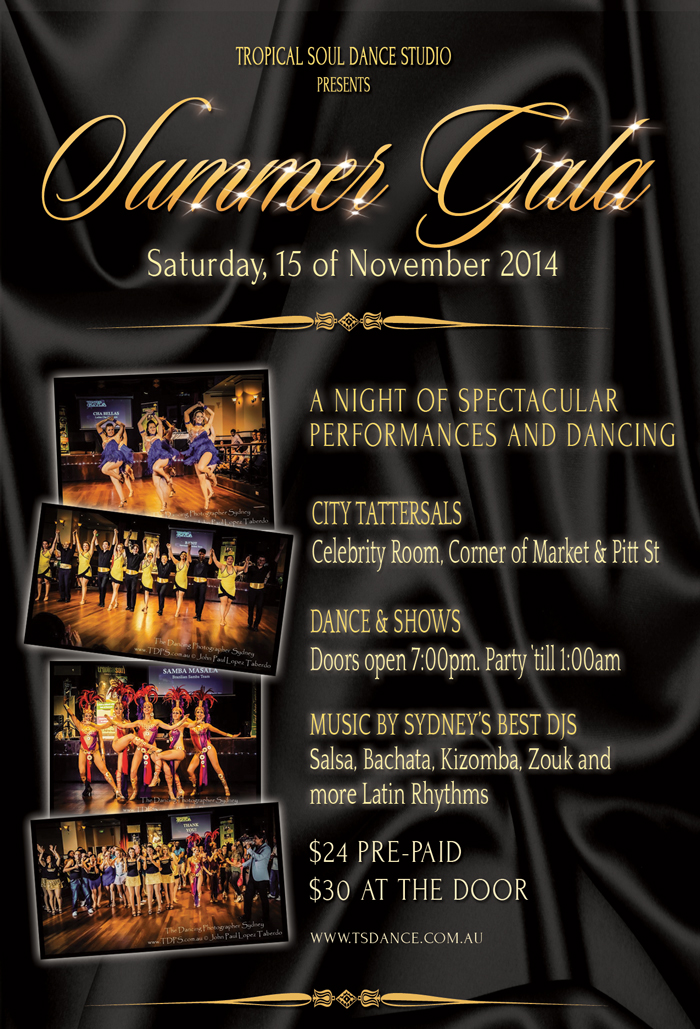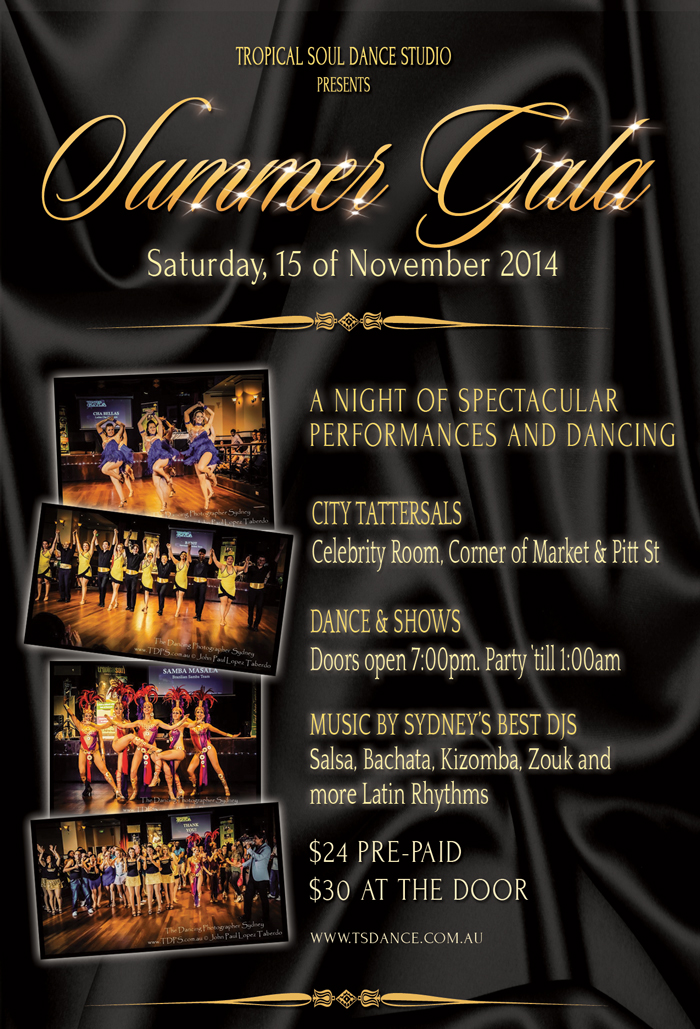 The TROPICAL SUMMER GALA PARTY will be held on Saturday, 15th of November!
We'll be showcasing the best talent and, of course, your best outfits.
It'll be a night to remember with:
Spectacular performances and shows from Salsa, Bachata, Brazilian Samba, Cuban Salsa, Men's Bachata Shines, Ladies Salsa Shines, Funky Bachata Shines, Kizomba and more!
Surprises
Prizes to be won…
….and of course, DANCING!
The spacious dance floor will allow you to glide all night long from one end to the other. We'll be featuring the best of Salsa, Bachata, Kizomba and Zouk so come join us for a night of great dancing, fantastic shows, and plenty of smiles!
Schedule for the night:
7:00pm Doors open
7:15pm Latin Dance class
8:00pm Shows & Performances
9:00pm Dancing 'til 1am!!
Be sure to GET YOUR TICKETS and save the date as this is one party not to miss!
TICKETS AVAILABLE NOW UNTIL SOLD OUT! ($24 pre-paid / $30 at the door)
ONLY AVAILABLE AT THE DOOR!
We are looking forward to see you at this amazing event!
HERE IS THE PROGRAM OF THE NIGHT
7:00pm – Doors Open
7:15pm – Intro to Latin Dance class
8:15pm – TROPICAL SHOW SET 1
9:15pm – Party time
11.00pm – SHOW SET 2
11.20pm – More partying and dancing!
1:00am – Party finishes
SHOW ORDER
TROPICAL SHOW SET 1
Ragga Riddimz – Dancehall
Steven & Alexis – Bachata
Project Salsa – Salsa
Cubachata – Bachata
B-Unit – Bachata
Salsa Ladies – Salsa
Cuban Soul – Cuban Salsa
Ladies Stylz – R&B
Conversa de Samba – Brazilian Samba
Zoukers – Zouk-Lambada
Swing Skool – West Coast Swing
Salsa Elite – Salsa
Josie & Steve – Salsa

GALA SHOW SET 2
Armand & Liz – Kizomba
Bachateros Advanced – Bachata
Peter & Michelle – West Coast Swing
Salsa Pro Team – Salsa
We hope you enjoy this amazing night!