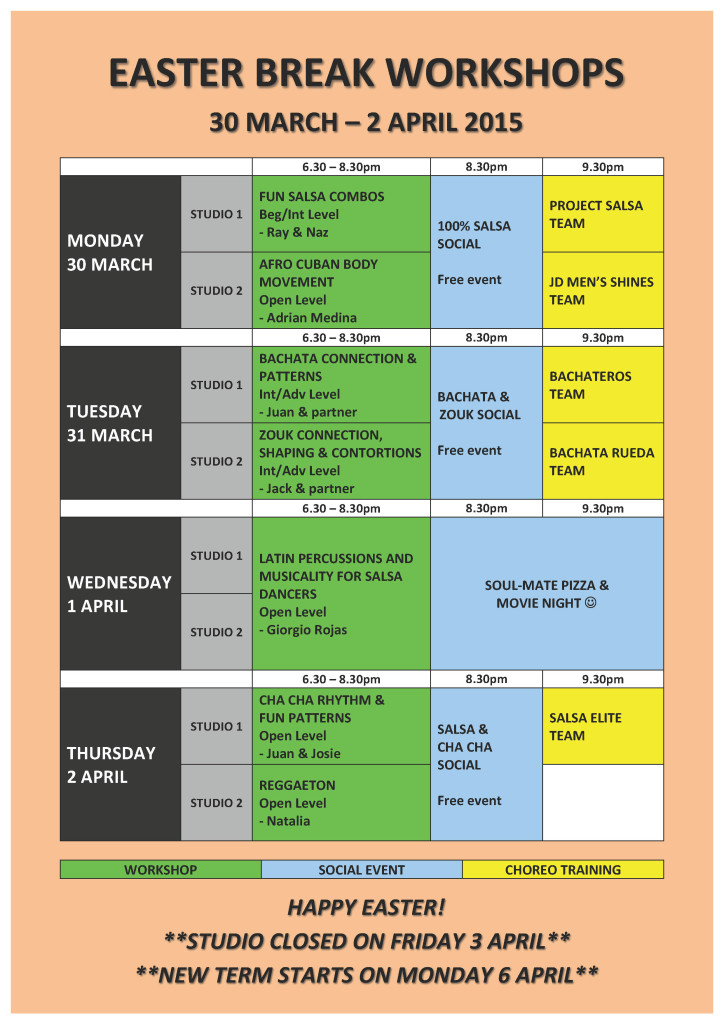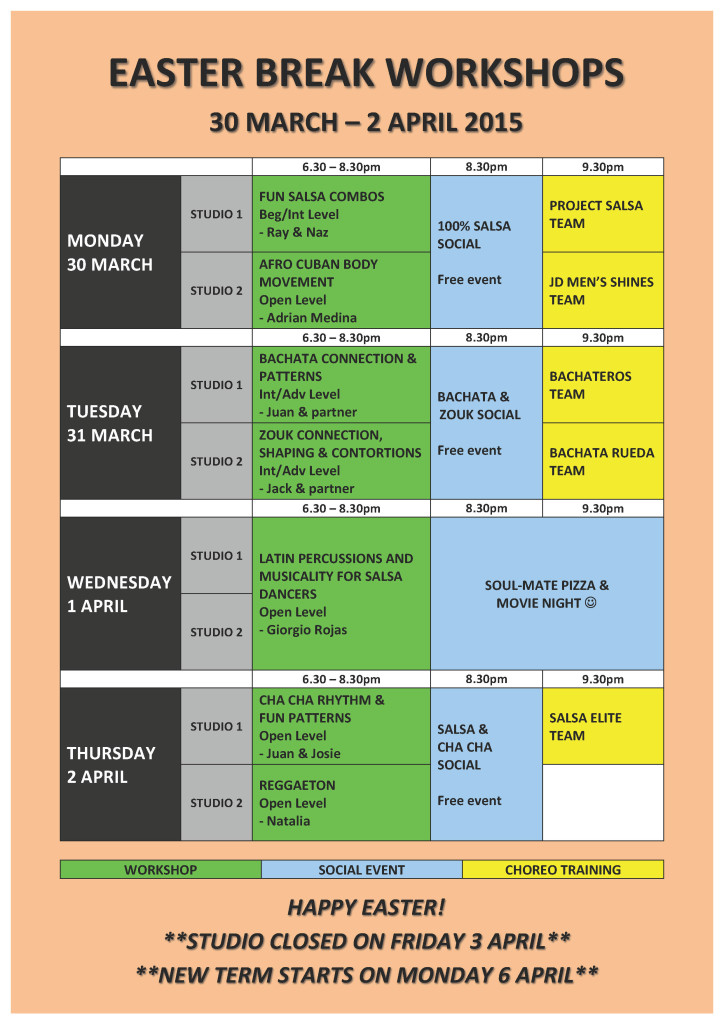 It's time for the EASTER BREAK WORKSHOPS! The last few weeks of this term have been great to see all the new faces and to see all the returning students 🙂 As we prepare for the end of the term, we're also excited to announce a week full of exciting workshops!
We'll have the following workshops, each of them lasting for 2 hours to get those techniques right.
In these workshops, we teach material not taught on classes. So for sure everything will be new material for everybody! PLUS, at the end of each night, we will have 1 hour of SOCIAL dancing so you can practice your moves!
And check out WEDNESDAY night, we will have a MOVIE and PIZZA night!
PRICING
EARLY BIRD UNTIL FRIDAY MARCH 27
$30 per workshop
$35 for Latin Percussions and Musicality
REGULAR PRICE
$40 per workshop
$45 for Latin Percussions and Musicality
*TS Members receive 10%
SPECIALTY WORKSHOPS
RUMBA (AFRO CUBAN BODY MOVEMENT) Adrian, one of the best Cuban Dancers in Australia, will teach you the body movement and isolations to create an authentic Rumba movement.
INSTRUCTOR: Adrian Medina MONDAY, 30th of Mar
FUN SALSA COMBOS Salsa turn patterns Beg/Int level that are easy to lead and follow for the dance floor.
INSTRUCTOR: Ray & Naz
MONDAY, 30th of Mar
BACHATA CONNECTION Learn different techniques on how to connect with your partner and become a "magnet" on the dance floor (includes some sexy leads and body movement)
INSTRUCTOR: Juan & partner
TUESDAY, 31st of Apr
ZOUK – Connection, Shaping and Contorsions Don't just dance ZOUK, feel ZOUK! Learn the little intricacies of this beautiful dance.
INSTRUCTOR: Jack
TUESDAY, 31st of Mar
LATIN PERCUSSION FOR SALSA DANCERS Learn to play and understand the Salsa rhythm. A must for every Salsa dancer!
INSTRUCTORS: Giorgio Rojas WEDNESDAY, 3rd of Apr
CHA CHA RHYTHM & PATTERNS Learn the beautiful rhythm of Cha Cha Cha, the syncopations and other cool footwork, plus some awesome turn patterns.
INSTRUCTORS: Josie & Juan THURSDAY, 2nd of Apr
REGGAETON Perfect workshop if you want to impress your friends on the dance floor. Learn how to move your body and booty! Open to guys and girls!
INSTRUCTOR: Natalia
THURSDAY, 2nd of Apr
REGISTER ONLINE
To register online please go to our MindBody site. If you are an existing member use your current username and password, if not you will be prompted to create one.