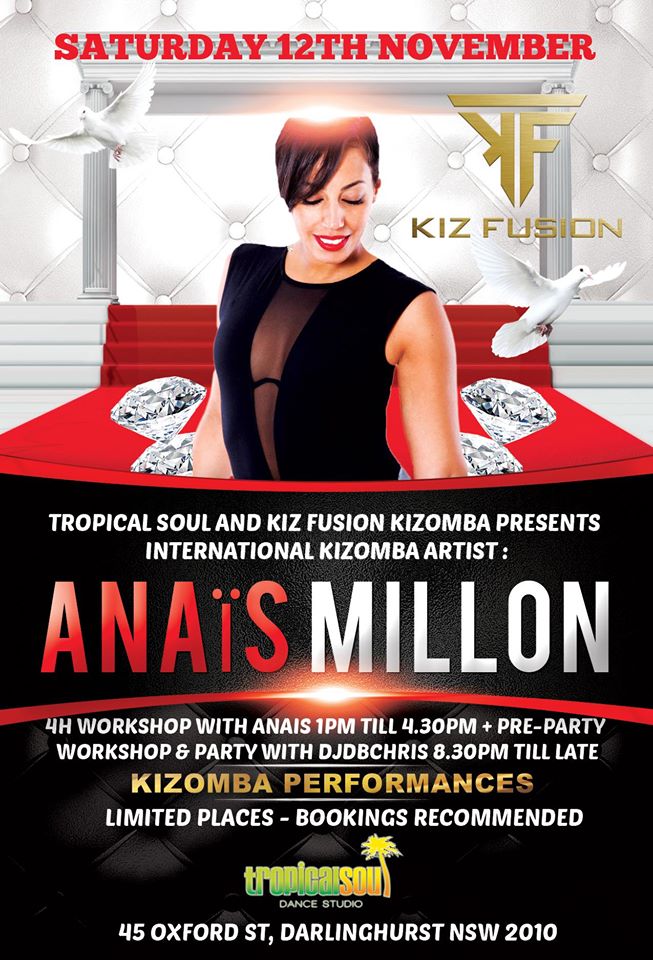 This is the best opportunity to Improve your Kizomba! Thanks to the Byron Latin Fiesta for brining such an amazing artist to Australia!
KIZ FUSION KIZOMBA & TROPICAL SOUL have the Pleasure to PRESENT :
INTERNATIONAL INSTRUCTOR ANAÏS MILLON !!!!!!
Anaïs Millon Kizomba is a world know kizomba artist. She started kizomba in 2009, creating an internationally successful career with her first partner, Morenasso. With her experience at major international festivals, she is recognized as a pioneer of kizomba in the world for her unique style, technique, precision and pedagogy. One of the only women to master both the lead and follow, she developed her own method of teaching, and trains dancers and teachers of kizomba worldwide.
In 2016, she created her own organization, EVIDANCE, whose main activity is organizing events involving dance and charity work.
JOIN US this SATURDAY, 12th NOVEMBER to learn from this INTERNATIONAL SUPERSTAR for 4hrs of Kizomba Workshop, followed by Performances & Party of KIZOMBA, SEMBA, AFRO-HOUSE with some BACHATA.
Classes are suitable for ALL LEVELS where you will learn the following techniques :
**Technical moves
**Styling for couples
**Leading and Following
**Musicality and timing
EVENT SCHEDULE
1pm : Lady Styling
2.30pm : Leading and Following Part 1
3.30pm : Leading and Following Part 1
4:30pm : Kizomba Social Dance Moves
8.30pm : Kizomba Workshop by DBChris & Amanda
9.30pm : BIG PARTY Kizomba, Semba Afro-House and Performance by Kizomba Australia, Kiz Fusion Kizomba & more…
DJS: DJ DB_CHRIS – KIZOMBA, SEMBA, AFRO!!!!
VENUE: Tropical Soul Dance Studio – 45 Oxford St, Darlinghurst NSW 2010
PRICES:
| | | |
| --- | --- | --- |
| MEN | | |
| | early bird | regular |
| 1 Kizomba Workshop | $30 | $35 |
| 2 Kizomba Workshps | $55 | $65 |
| 3 Kizomba Worshops | $80 | $95 |
| Men's Full Pass – 4 Kizomba workshops + Party Entry | $90 | $110 |
| |   |   |
| LADIES | | |
| | early bird | regular |
| 1 Kizomba Workshop | $30 | $35 |
| 2 Kizomba Workshps | $55 | $65 |
| 3 Kizomba Worshops | $80 | $95 |
| 4 Kizomba Workshops | $105 | $115 |
| Ladie's Full Pass – 5 Kizomba workshops + Party Entry | $110 | $130 |
REGISTER ONLINE