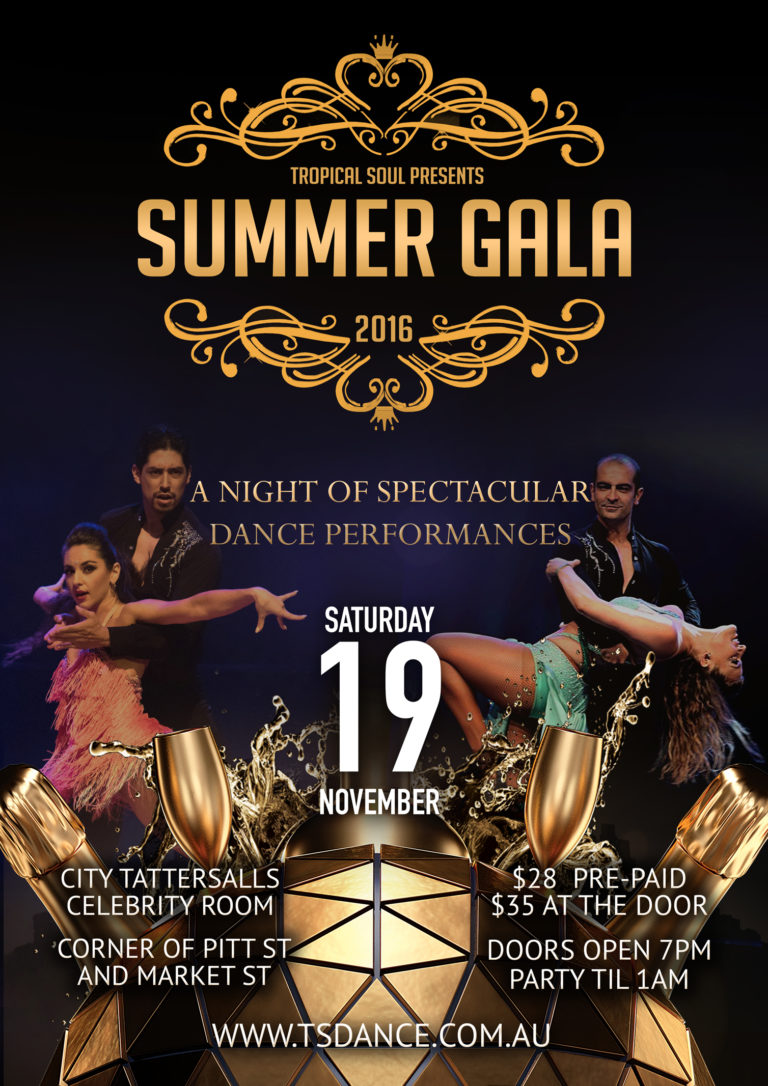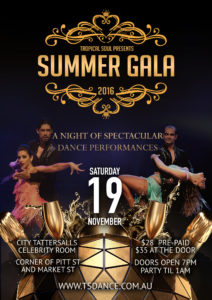 The TROPICAL SUMMER GALA PARTY will be held on Saturday, 19th of November 2016!

We'll be showcasing the best talent and, of course, your best outfits.
It'll be a night to remember with: Spectacular performances and shows from Salsa, Bachata, Cuban Salsa, Ladies Salsa Shines, Kizomba and more! Plus lots of surprises and prizes to be won…
….and of course, DANCING!
The spacious dance floor will allow you to glide all night long from one end to the other. We'll be featuring the best of Salsa, Bachata, Kizomba and Zouk so come join us for a night of great dancing, fantastic shows, and plenty of smiles!
VENUE: Celebrity Room at the CITY TATTERSALLS, 194 – 204 Pitt Street  (Corner of Market St and Pitt St, Sydney)
Be sure to GET YOUR TICKETS and save the date as this is one party not to miss!
TICKETS AVAILABLE UNTIL SOLD OUT! ($28 pre-paid / $35 at the door)
PROGRAM OF THE NIGHT
7:00pm – Doors Open
7:15pm – Introductory Latin Dance class
8:00pm – TROPICAL SHOW SET 1
9:00pm – Party time
10:45pm – GALA SHOW SET 2
11.00pm – More partying and dancing!
1:00am – Party finishes
We hope you enjoy this amazing night!