❄️ WINTER CHOREOGRAPHY SEASON 2021 ❄️
Want to push your dancing to the NEXT LEVEL? Ready to take on a new CHALLENGE in 2021? Come join one of our amazing choreography teams and learn a brand new routine to push your dancing skills over the course of 10 weeks. Choose from the variety of dance styles we offer: Bachata, Cha Cha, Mambo, Salsa, Styling & more!
Take the chance to perform at some of the biggest Latin Dance events in Sydney, such as:
Tropical Soul Winter Gala: 8 MAY 2021
Sydney International Bachata Festival: 21-23 MAY 2021
Not only will you get the chance to improve your technique, but also find confidence and a stronger presence in your dancing. Check out the choreography teams on offer below!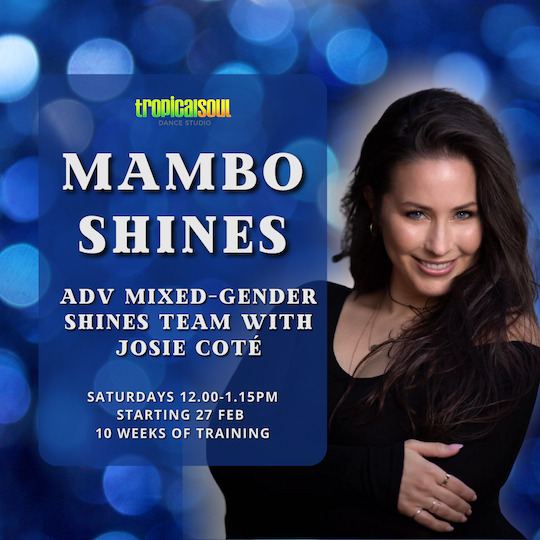 Brace yourselves, because the Mambo Queen strikes again! Our fierce director, Josie Cote, is going to bring the head with a fiery mambo shines routine. Don't miss the chance to challenge your dancing and experience the fun and excitement in this amazing dance style!
WHEN: SATURDAYS 12:00 PM – 1:15 PM (STARTS FEB 27)
LEVEL: Advanced, Mixed Gender Shines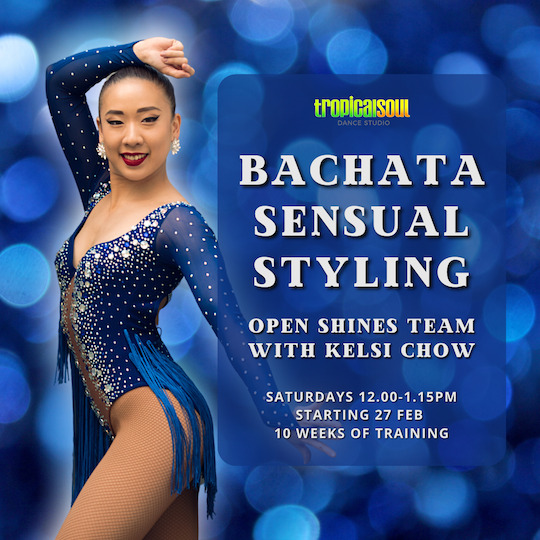 BACHATA SENSUAL STYLING
KELSI CHOW
Want to beautify your Bachata dancing and add more sensual movement? Then the Bachata Sensual Styling Team if perfect for you! Join our beloved Latin Geisha, Kelsi Chow, for a fun experience of movement exploration, connection and musicality! Become the best Bachata dancer you can be.
WHEN: SATURDAYS 12:00 PM – 1:15 PM (STARTS FEB 27)
LEVEL: Open (all levels welcome!), Mixed Gender Shines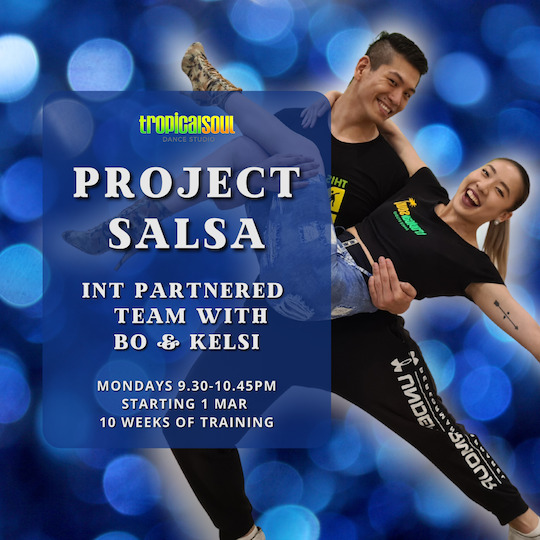 Looking to challenge your partnered dancing & connection to the music? Well our Asian Invasion duo, Bo & Kelsi, present to you the Project Salsa Choreography Team! Get ready for a fun-filled experience that will further enhance your love for Salsa!
WHEN: MONDAYS 9:30 PM – 10:45 PM (STARTS MAR 1)
LEVEL: Intermediate, Partnered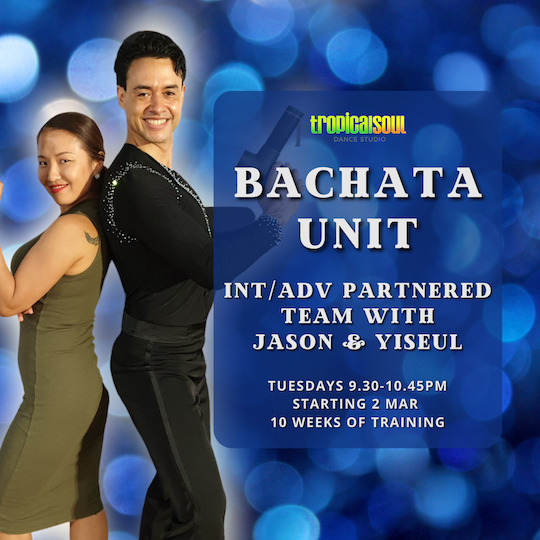 BACHATA UNIT
JASON & YISEUL
Our trusty dynamic Bachata duo, Jason & Yiseul, are back again! This year they are stepping things up with an exciting Bachata Unit partnered routine! If you love Bachata and can't get enough, then don't miss the chance to explore more complex combos, musical shines & more surprises in this choreo team.
WHEN: TUESDAYS 9:30 PM – 10:45 PM (STARTS MAR 2)
LEVEL: Intermediate/Advanced, Partnered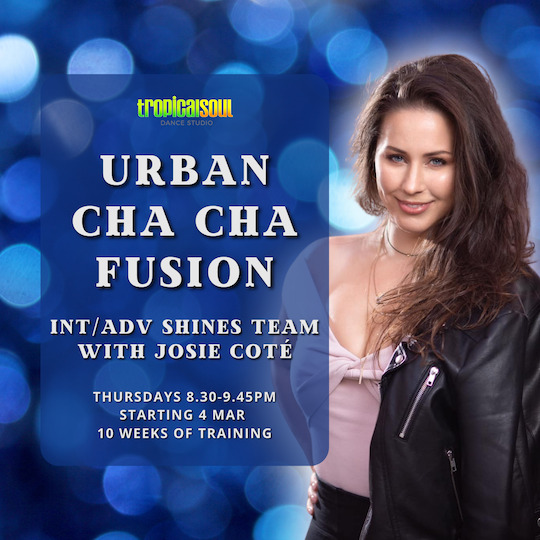 URBAN CHA CHA FUSION
JOSIE COTE
For the first time EVER, our TS director & dance extraordinaire, Josie Cote, presents to you this unique Urban Cha Cha Fusion Shines Choreography Team. Perfect for any Int/Adv dancer looking to get their groove on and challenge their musicality in Cha Cha!
WHEN: THURSDAYS 8:30 PM – 9:45 PM (STARTS MAR 4)
LEVEL: Intermediate/Advanced, Mixed Gender Shines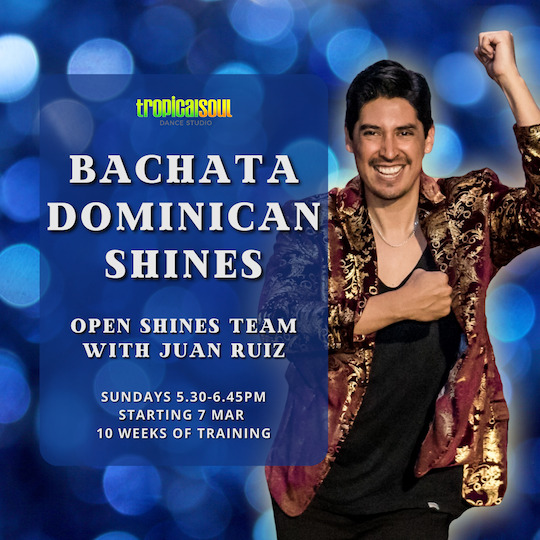 BACHATA DOMINICAN SHINES
JUAN RUIZ
This is your chance to discover the fun in Dominican Bachata! Join Bachata pioneer, Juan Ruiz, for an epic Bachata Dominican Shines routine, and deepen your appreciation for the evolution of the dance style from past, present to future!
WHEN: SUNDAYS 5:30 PM – 6:45 PM (STARTS MAR 7)
LEVEL: Open (all levels welcome!), Mixed Gender Shines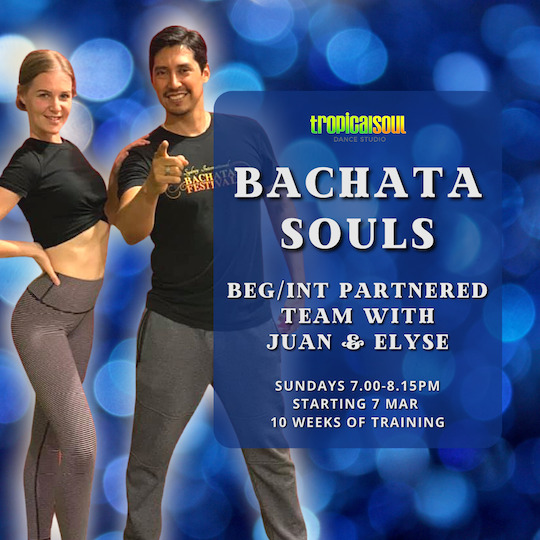 BACHATA SOULS
JUAN & ELYSE
Pop your choreography cherry with this year's exciting Bachata Souls Partnered Team! Learn this short & sweet routine from our very own Juan & rising star, Elyse. Work on the basic dance techniques & performance skills to build your enjoyment & confidence in Latin dancing! This team is perfect for anyone with little to no experience in performing, but a big love for Bachata!
WHEN: SUNDAYS 7:00 PM – 8:15 PM (STARTS MAR 7)
LEVEL: Beginner/Intermediate, Partnered
PLEASE SCROLL BELOW FOR PRICING, TIMETABLE & REGISTRATION

Beginners
You have exposure to the dance style and understand its basic concepts, but have yet to gain experience
Intermediate
You have experience with and can carry out the dance style but have yet to understand its advanced concepts
Advanced
You have solid experience and training with the dance style and understand advanced concepts
Expert
You demonstrate proficiency and superior dance style level, beyond advanced
Open
For any level of dancers. Everybody is welcome
Please read below to view the Terms & Conditions of joining a choreography team!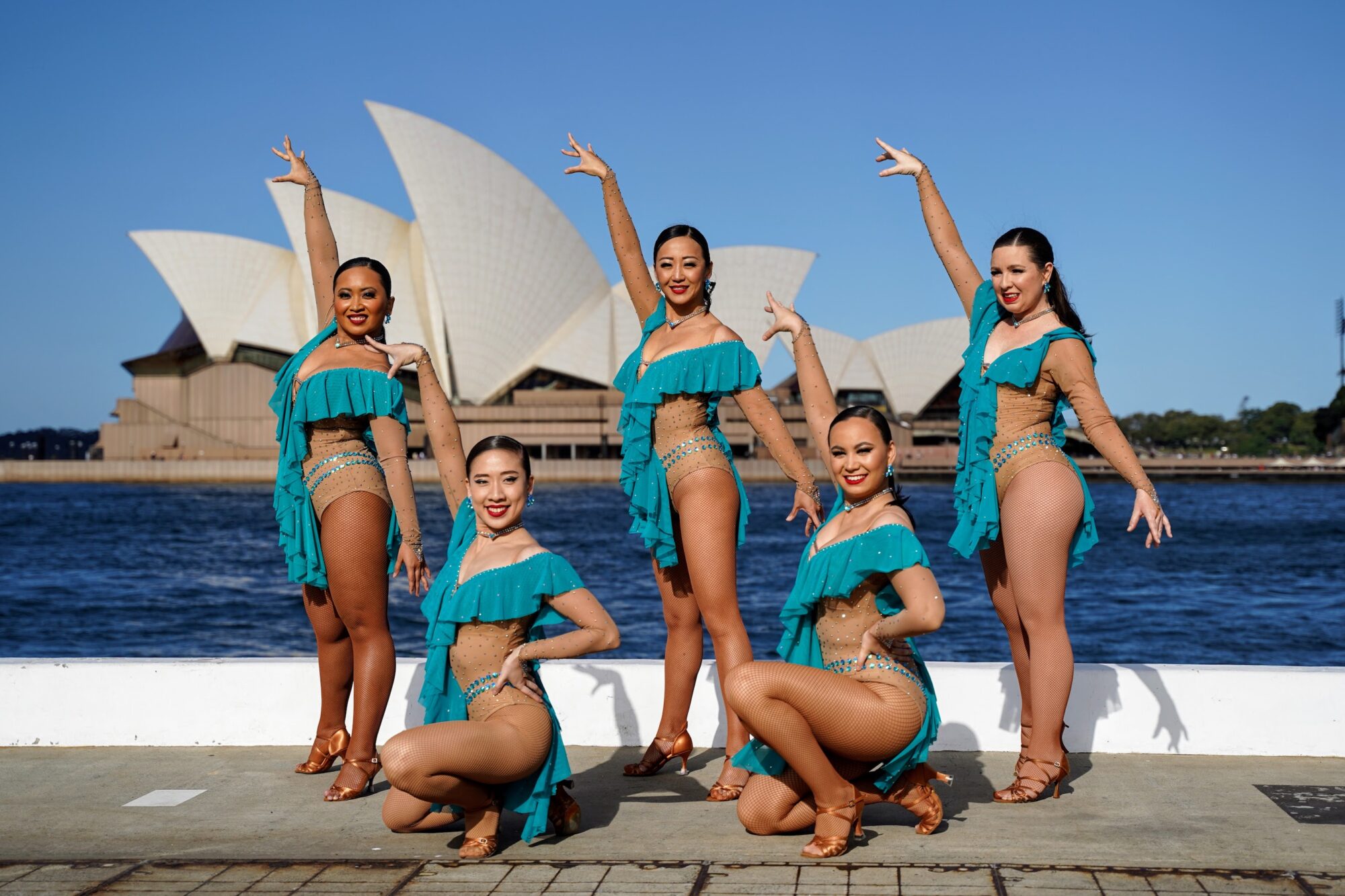 Keep the following Terms & Conditions in mind...
When registering for a choreography course, you agree to the following terms and conditions:
Choreography fees are non-refundable as TSDS must pre-plan team details such as number of couples and/or individuals, choreography routines and arrangements, and other resources. TSDS is not responsible if you change my mind or your circumstances change.
Full payment of the choreography course(s) is due on or before the start of your choreography course.
Discounts on multiple choreography course(s) only apply within the current choreography session (ie. not for any other previous choreography sessions).
By booking for this choreography course, you're confirming that you're available and committing yourself to attend ALL the training sessions.
Extra training sessions with your team or dance partner may be required, and you are willing to go all in and work hard to become the best dancer you can be!
Any additional training session with the choreographer, outside of the scheduled session, will be extra and will incur a separate payment.
If more than 1 training session is missed, a private lesson will need to be booked with your choreographer to catch up.
If you miss more than 3 training sessions, understand you may not have the chance to perform with your team.
Plan approximately $100 (exclusive of dance shoes) for the purchase of your performance costume.
The use of any images and/or videos made from trainings, rehearsals, and the performances may be used for promotional purposes by TSDS, so don't forget to smile!
TSDS reserves the right to update the choreography timetable. Students will be advised of any changes at least 2 weeks before the changes occur
All choreography must have a minimum number of couples (or dancers) in order to go ahead. If numbers are not met, TSDS will cancel the choreography course, refund the amount paid or move the registration to another choreography course.
* Some Advanced level choreography teams require for you to get approval from the team leader before joining. Please inquire before booking.