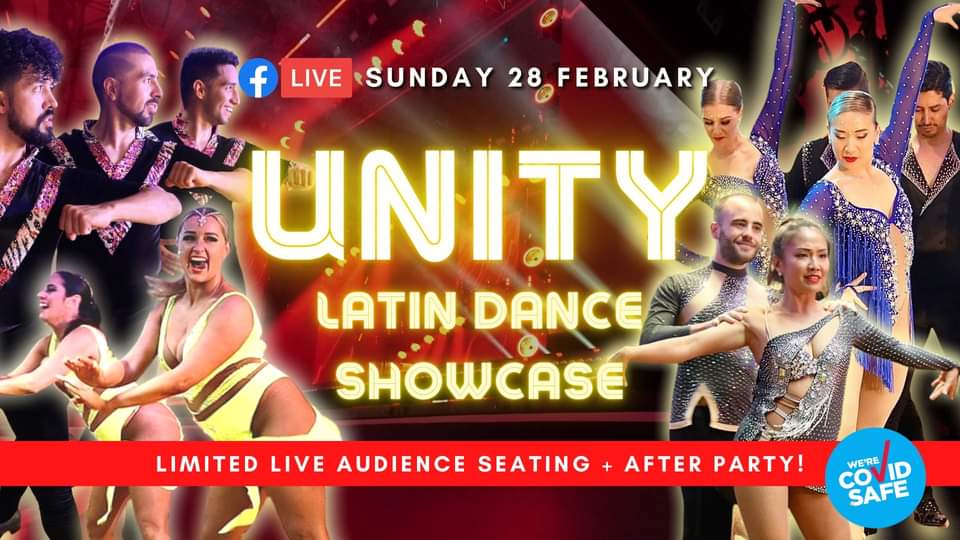 🌎THE WORLD IS INVITED TO THIS EXTRAORDINARY EVENT! 🌎
Streamed live on Facebook!
We are entering 2021 full steam ahead and no turning back! In spite of international borders remaining closed, our students & instructors have continued to train hard and polish their routines for the upcoming WORLD LATIN DANCE CUP! They will be competing via live stream against teams & representatives from across the globe!
JOIN US for a fun evening to celebrate the power of UNITY – where we can acknowledge the hard work of our Aussie represent in keeping Latin Dancing alive and growing, and putting their best foot forward on the world stage! 💃🕺
The night will be filled with laugher, good vibes, music and of course, amazing performances from some of the best studios in Sydney!
✨ Latin Dance Australia
✨ Tropical Soul Dance Studio
✨ and more TBC!
The SHOW will be 🎦 streamed live 🎦on FACEBOOK! Supported by @Cadtured
⭐️ LIVE AUDIENCE TICKETS! ⭐️
Limited numbers! Be part of the audience and enjoy the shows! Plus, after the shows, enjoy some nice music, drinks, and get to know all the performers!
Limited number of 50 audience tickets!
$25 each