🙌STUDIO RE-OPENING ROADMAP 🙌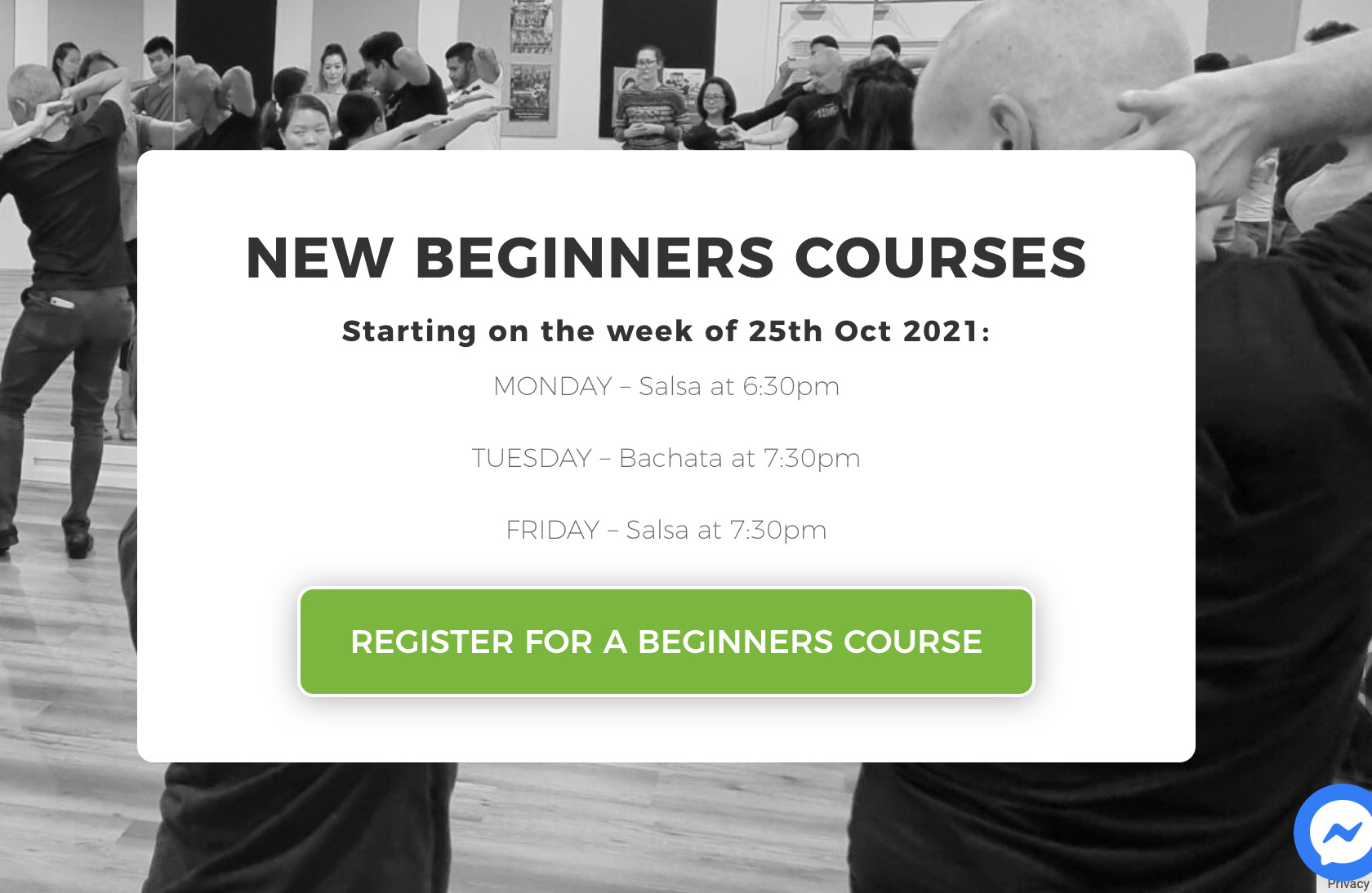 MONDAY 25 OCT
BEGINNERS COURSES
We will be offering 6 weeks beginners courses starting on Monday, 25 Oct! SALSA & BACHATA - Limited spots!
These courses will sell out! so register early!
1st DEC
STUDIO OPEN TO ALL
From the 1st of December, we will be opening the doors to all students! We will be offering a full timetable, from beginners to advanced classes in all of our styles!
Plus! we will have our studio parties! We are having a Welcome Back party on the 2nd Dec!
BEGINNER DANCER?
JOIN OUR BEGINNERS COURSES
Hundreds of people have taken one of our 6-weeks Beginners course. You'll be dancing in no time!
ALREADY A DANCER?
GIVE US A TRY FOR 1 WEEK
For only $20, get access to all of our classes for one week. We're confident that you'll enjoy your time at TS
DANCE AS MUCH AS YOU WANT!
We'd love for you to dance Salsa, Bachata, Kizomba, Zouk, Mambo, Cha Cha as much as you want! Memberships are the best value for money.
We also offer Class Passes! Have a look at our pricing options:
Making people dance since 2011
ADULT LATIN DANCE CLASSES
Latin dance classes IN SYDNEY: salsa, bachata, MAMBO and kizomba, for ADults. Start dancing today, join us now!
ADULT LATIN DANCE CLASSES
Nobody was born dancing. We all learn how to dance, the same way we learnt how to walk. Let us teach you how to dance!
Tropical Soul has been making people dance since 2011, in Sydney and in Australia.
Join us for a TRIAL CLASS, give us a try in Salsa, Bachata, Mambo, Kizomba and more latin dance styles. See what the fuss is about. BE WARNED! LATIN DANCING IS ADDICTIVE!
Beginners to advanced – Burn the floor dancing salsa – Latin dance classes advanced levels – Feel the rhythm – Classes in Sydney – Beginner salsa