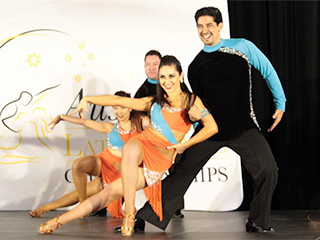 Learn a choreography taught by our dance champions and perform on the big stages!
Fast track your learning, spending time, one-on-one, with one of our professional instructors!
I've been going to Tropical Soul about two years now, and am continually inspired by the teachers and other dance students in dance and movement. Before dancing, I wasn't a physically active person, now I look forward to my Tuesday Bachatercise and Mon/Wed Salsacise and Friday Zoukcercise (no those aren't real words, I made them up XD)!
Rhonda Tang
I'm a teacher at this dance school, and what attracted me to the studio was it's vibe. A genuinely friendly atmosphere. Some schools portray the friendly vibe, but underneath there is an ugly side, but at TS, it's genuinely nice, but at the same time, it's run professionally, it's very well organised and affordable
Armand de Saint-Salvy
Best dance school I have ever been to :-)!!! Big variety of dance styles, nice and convenient location and most importantly very talented, friendly, encouraging and inspiring teachers as well as nice and fun people to dance with.
Beatrice Freuler
WHAT'S GOING ON AT THE STUDIO
Tropical Soul is one of the most popular Latin Dance studios in Sydney and Australia. We offer Latin Dance classes in Salsa, Bachata and all Latin styles from Beginners to Advanced level. We take pride in creating a wonderful community of dancers and friends! Not only you will learn to dance or have the opportunity to perform on big stages; you will increase your social circle and make lots of new friends!
Give us a try & get your first class FREE! (new students only)