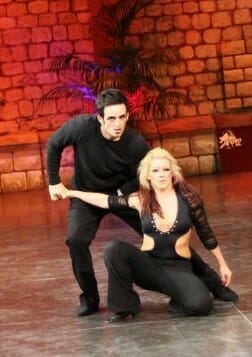 Have you been inspired by watching performances from Jordan and Tatiana, Benji and Heidi and feel that you would like to dance like them?
Are you an experience Salsa / Bachata dancer, looking for your next challenge?
Ever wanted to learn West Coast Swing? Well, now Tropical Soul will be offering WCS Classes taught by the most prominent WCS school in Australia, Nuroc Dance Company!
Classes start on Thursday, 26 of May. 6 weeks courses.
Charles & Michelle Gil of Nuroc Dance Company both taught 1950's rock n roll dancing for over 14 years and now predominately teach Modern Jive & West Coast Swing dancing. Charles Gil has made several TV appearances including appearing with Sonia Kruger on Channel 7's Sydney Weekender Show in 2001 and dancing on the TV Hit Show Dancing with the Stars in 2009. Charles & Michelle have also choreographed and taught West Coast Swing routines for the TV show "Dancing with the Stars" a total of three times!

Charles & Michelle also bring Jordan Frisbee & Tatiana Mollmann to Australia every year to attend the event "Best of the Best" which is a huge West Coast Swing event held annually – they are also responsible for bringing Jordan & Tatiana to the Sydney Salsa Congress every year!

Charles and his staff make learning West Coast Swing easy and fun so why not join in a course now!