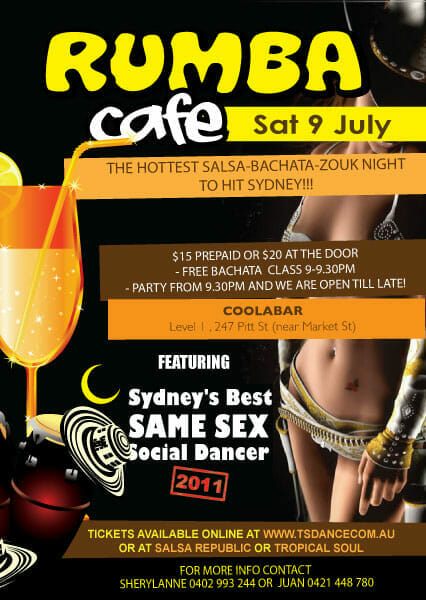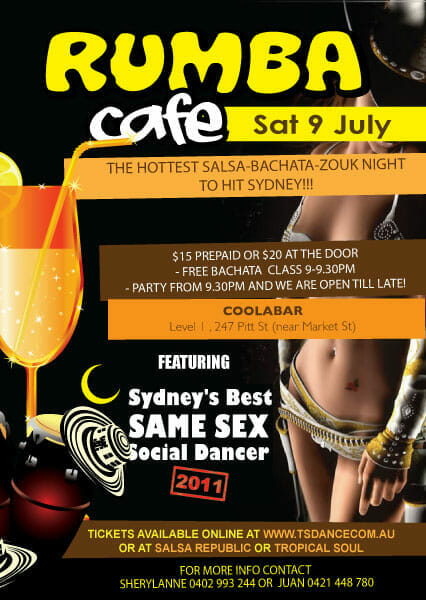 As part of the Sydney's Best Social Dancer competition, we had a LOTS people wanting to enter last year – guys dancing with guys and girls dancing with girls (just for fun!) – so now we are actually giving you the chance to enter – in fact we are dedicating a whole night to it !!
Saturday 9 July at Coolabar
from 9pm free Bachata class
9.30pm party
great lineup of shows :
Salsa Republic Zouk Team
Jane Gamarnik and Duncan Stark Zouk routine
Salsettes by Pascale Dernocoure
Tropical Soul Bachateros Advanced team
more artists to be confirmed !
WANT TO COMPETE?
$25 for the competition entry – $200 prize for the winning couple
You'll choose the style you want to dance to, either Salsa, Bachata or Zouk. You will pick out a number for a random song from the computer (we will have 5 songs in each style of Salsa, Bachata or Zouk)
then the audience will decide who the winner is !
BUY TICKETS!
$20 entry on the night
$15 prepaid call 0402993244, or directly at Salsa Republic or Tropical Soul Studios.
Buy them ONLINE NOW!
At the door onlyTHIS IS GOING TO BE SOOOO MUCH FUN !!!