It's time for the TSDS CHRISTMAS BREAK WORKSHOPS!
The past few weeks has been a busy time at Tropical Soul and as we prepare for the end of the term, we're also excited to announce a week full of exciting workshops!
Here is some important dates to remember for December.
Friday 13th December – End of Term 6 Classes
Monday 16th – Friday 20th December – End of Year Workshops
Friday 20th December – Salsa & Bachata Monthly Party – Christmas Edition
Here is a preview of some of the awesome workshops available for you this Summer.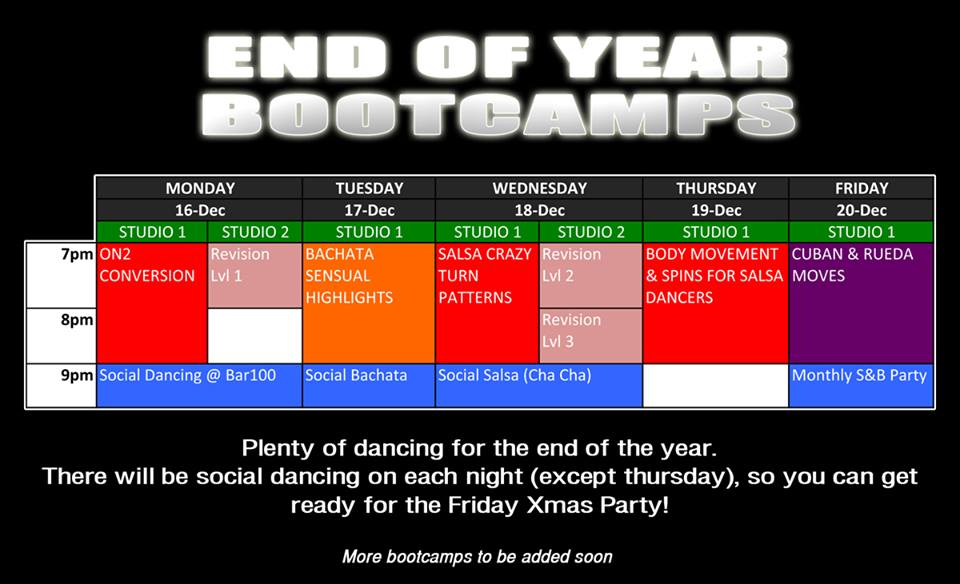 BOOTCAMPS REGISTRATION
SPECIALTY BOOTCAMP
Instructors will focus on specific areas of dancing, techniques and essential skills not usually taught in regular group classes. 2 hours long. Limited numbers.

2-hour bootcamp + social $40 each

2nd, 3rd or more bootcamp $30 each thereafter
Social only $5 (pay at the door)

10% Off for MEMBERS (Please see receptionist)

NOTES

There is a total of 5 Specialty Bootcamps.
Please include the date and name of the Bootcamps during the online transaction.
MEMBERS: please register with reception so you can get your 10% discount
REVISION CLASSES REGISTRATION
REVISION CLASSES
Instructors will review material taught in class plus different variations that you can do with them.

Pre paid $15
At the door $20 each
10% Off for MEMBERS (Please see receptionist)

NOTES

There is a total of 3 Revision Classes.
Please include the date and name of the Revision class during the online transaction.
MEMBERS: please register with reception so you can get your 10% discount